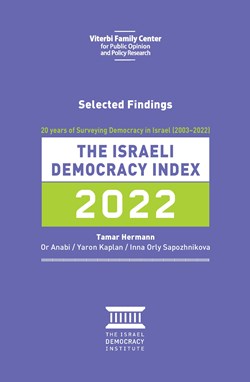 The Israeli Democracy Index 2022
Summary
Publication Date:
Cover Type: Softcover | Online
Number Of Pages:

16

Pages
Center: Viterbi Family Center for Public Opinion and Policy Research
Each year, the Israeli Democracy Index takes the public pulse by conducting research based on the findings of a survey of a representative sample of the entire population of Israel. The analyses provide in-depth insights on the Israeli public's views and attitudes across a broad range of key issues, including the functioning of the Israeli democratic system; commitment to core democratic values; the degree of trust in government institutions and in decision-makers; minority rights; and religion and state.
This is the 20th year of the publication of the Index (2003–2022). Alongside the findings for 2022, this year's version also reviews the findings from the past two decades, revealing long-term trends, in terms of what has remained stable and what has changed in the public's view of the government, Israeli politics, and Israeli society. Or in other words: Where have we come from, where are we today, and perhaps to begin to think about where we might be headed?
The Democracy Index was published just as a new Israeli coalition government was being formed, following a fifth election in under four years. Its findings reveal a society deeply divided about its identity, institutions, and future trajectory.
read more