Participation by invitation only
The Sixth Meeting of IDI's International Advisory Council
Jerusalem, Israel 
From February 12-15, members of IDI's International Advisory Council, Board of Directors, and distinguished guests gathered in Jerusalem for the sixth annual meeting of the International Advisory Council (IAC).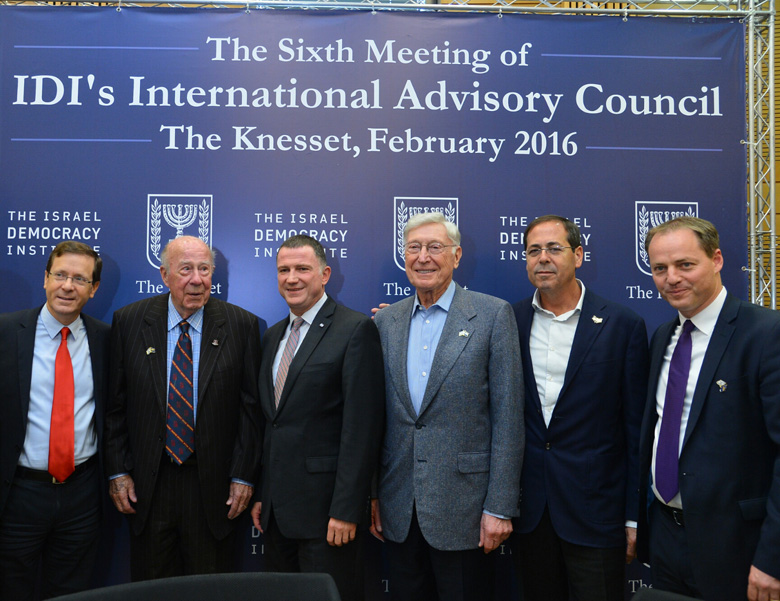 This meeting was dedicated to a discussion of the critical challenges facing Israeli democracy at the present time. Conference participants and invited guests attended a special gala dinner with Prime Minister Benjamin Netanyahu at the King David Hotel. The speakers discussed the crisis of governance in the democratic world.
IAC member participants included Prof. Gerhard Casper; The Honorable George P. Shultz; Justice Rosalie Silberman Abella; Justice (Emerita) Dorit Beinisch; Prof. Vernon Bogdanor; Prof. Ronald J. Daniels; Justice (Emerita) Dalia Dorner; Prof. Moshe Halbertal; Dr. Martin Indyk; Dr. Josef Joffe; Prof. Christoph Markschies; Prof. Robert H. Mnookin; Prof. Gabriela Shalev; Justice (Emeritus) Meir Shamgar; Prof. Abraham D. Sofaer; and Mr. Bret Stephens.
IDI board member participants included Mr. Bernard Marcus; Mr. Amir Elstein; Mr. Aviad Friedman; Mr. Sallai Meridor; Mr. Avi Naor; Mr. Imad Telhami; Dr. Michal Tsur; and Prof. Zeev Tzahor.