Israel Democracy Institute and the Jerusalem Institute for Policy Research published today the 2017 Statistical Report on Ultra-Orthodox Society in Israel. The report presents trends in population, education, employment, and leisure in the ultra-Orthodox sector in Israel.
---
---
IDI Events
In light of the proposed amendment to the law on the Council for Higher Education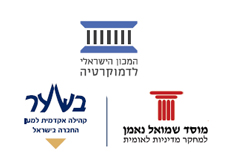 The conference will summarize the last semester's discussions from a workshop on the Jewish nation-state, which focused on one central current issue: the relationship between the Jewish nation-state and Diaspora Jewry.