IDI Presents Proposal for Regulating Lobbyist Activity to Knesset
This event took place at the Office of the Knesset Speaker at the Knesset in Jerusalem
On Thursday, January 3, 2013, IDI Vice President Prof. Mordechai Kremnitzer presented a proposal to regulate lobbying activity in Israel to Knesset Speaker Reuven Rivlin. Prepared at the request of the Knesset, the proposal is based on the assumption that lobbying is a legitimate and, when conducted properly, even desirable activity in a liberal democracy. In order to prevent inappropriate lobbying efforts, however, it is important to ensure transparency and systematize supervision of lobbying.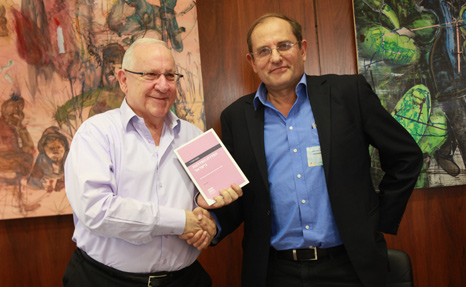 Prof. Mordechai Kremintzer presents the IDI proposal to Knesset Speaker Reuven Rivlin
Under the current legislation, lobbying oversight focuses on activities conducted within the Knesset building itself in order to influence members of the Knesset. IDI's proposal seeks to extend such regulation so that it will apply to the lobbying of government ministers and their staff as well.

Among the proposed changes, lobbyists would be required to submit annual reports that summarize their activities. They would have to identify their clients and would have to provide information about the issues for which they lobbied. IDI's proposal also recommends that some of the prohibitions in the existing lobby law become criminal offenses subject to monetary fines.
Speaker of the Knesset Rivlin undertook that after the elections of January 22, he will convene a committee to develop formal legislation based on the IDI proposal.
Summary of Recommendations (English)