Press Release
Reimagining Democracy Highlights
The Israel Democracy Institute held the first day of the inaugural "Reimagining Democracy" conference - in commemoration of the late Prof. Yaron Ezrahi. The sessions focused on the future of the relationship between the branches of government and the increasing tension between them.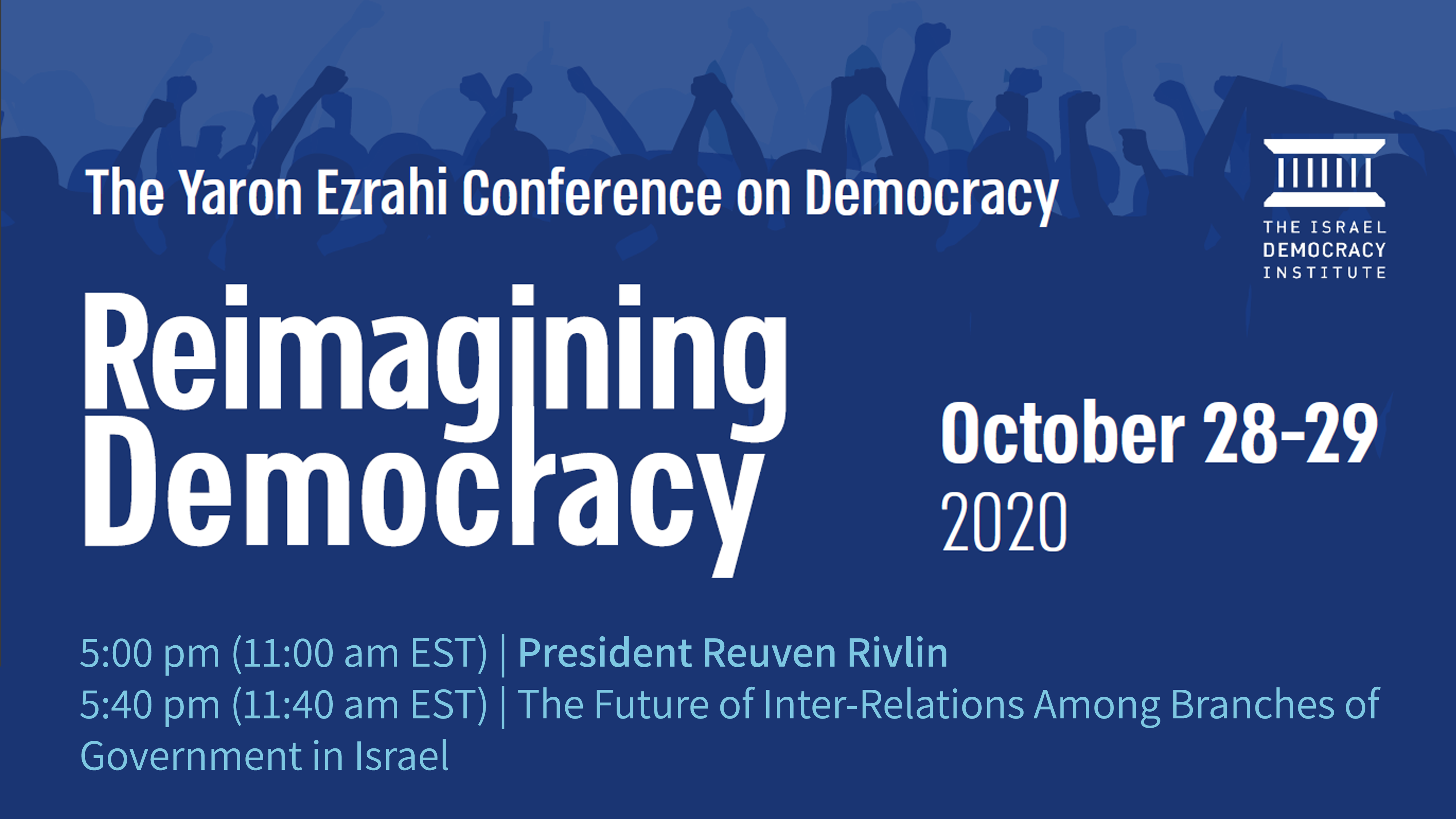 Conference Highlights
President Reuven Rivlin: "Not every criticism is incitement. Not every criticism of the judiciary is incitement. Not every criticism of the government is incitement. Criticism is important, but it must be constructive criticism… Today, more than ever, Israeli democracy needs a Basic Law of Legislation. We have no choice but to join forces, and form an agreed-upon Basic Law that will calm and stabilize the entire public system… Above all of this stands our Jewish and democratic state. Jewish and democratic in one breath and one statement. For this is our home whose walls are shaking today. The intense and heated debate, which is important and legitimate, about the separations of powers must not be conducted with boxing gloves on." 
Prof. Aharon Barak, former President of the Supreme Court: "The criticism of the court has gone way beyond any reasonable framework... (There is) a total mistrust throughout the entire system. I think each MK who is in the coalition & tomorrow will be in the opposition... must understand that a Basic Law cannot be changed like a regular law. A regular law requires a regular majority. For a Basic Law, this isn't enough…. No. For this we need a solid majority.
"The issue of the relations between the Knesset, the legislative authority and the executive authority, a usually problematic relation in a parliamentary democracy, but with us there is a situation in which the government dictates all Knesset decisions… "
MK Gideon Saar: "It is definitely the case that the High Court's in political issues in general and legislation in particular is accelerating wildly… It's actually hyper-activism... This whole dynamic, also undermines the public's confidence in all the authorities."
Justice Minister Avi Nissenkorn: "The pendulum of balance between the three branches of government has swung too far towards the executive branch. This is the real point of contention. The judicial branch is doing its job… The number of laws that the court has amended or blocked or called to amend in the last 30 years is very small. When you compare it to intervention in Europe, or in the US, the number in Israel is smaller..."
Yohanan Plesner, President of the Israel Democracy Institute: "How can we fix the relationship among the three branches of government when trust in government is at an all-time low? What can we do to buttress a free press in this age of disinformation? What must we do to better prepare our young people for the day when it's their turn to safeguard democracy? These are questions, of course, that affect not only Israel but democracies over the world."