Press Release
Johns Hopkins University President Ron Daniels Named Chair of IDI's International Advisory Council
Ronald J. Daniels, the President of Johns Hopkins University, is the new Chair of the Israel Democracy Institute's International Advisory Council (IAC). He succeeds Prof. Gerhard Casper, President Emeritus of Stanford University, who chaired the IAC since its founding chair, the late U.S. Secretary of State George P. Shultz, stepped down in 2014.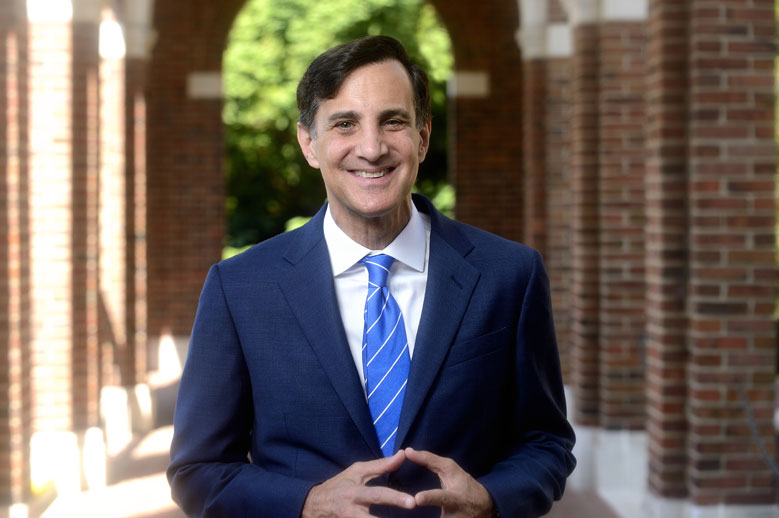 First convened at Wye River, Maryland in 2008, the IAC is made up of leading intellectuals, jurists, statesmen, and journalists from around the world who care deeply about Israel's future as a vibrant Jewish and democratic state. Its members provide international and inter-disciplinary perspectives on IDI's work and advise the Institute's leadership and experts on critical issues facing democracies around the world.
President Daniels said: "I am honored to succeed Gerhard Casper and George Shultz in leading this prestigious group. IDI is a vital institution in Israeli public life, and I look forward to working with IDI President Yohanan Plesner and the Institute's leadership to advance the organization's mission at this critical moment for democracy in Israel and across the globe."
IDI President Yohanan Plesner welcomed Prof. Daniels appointment: "Democracies around the world are facing unprecedented challenges. As we work with Israel's leadership to contend with their own unique set of challenges, I can think of no one better suited to lead our extraordinary group of international advisors than President Daniels. We will benefit tremendously from his proven academic leadership as we work to bolster Israeli democracy."
About Prof. Ron Daniels
Ronald J. Daniels has served as the 14th president of Johns Hopkins University since 2009. Under his leadership, Johns Hopkins continues its preeminence in education, patient care, and innovative discovery, and has continued its more than 40-year span as the recipient of more competitively allocated federal research funding than any other university in the country.
During his tenure, Daniels has focused his leadership on several key areas: strengthening inter-disciplinary collaboration in research and education, enhancing student access, deepening engagement with the city of Baltimore, and supporting economic and social innovation.
A law and economics scholar, he has written extensively on the intersections of law, economic development, and public policy, and advocated for the vital role that institutions–and especially institutions of higher education–play in promoting democratic values. His most recent book, What Universities Owe Democracy, takes up these themes for universities in this moment and offers ambitious but highly pragmatic avenues for reform.
Before coming to Johns Hopkins, he was provost and professor of law at the University of Pennsylvania and dean and James M. Tory Professor of Law of the Faculty of Law at the University of Toronto. A fellow of the American Academy of Arts & Sciences and the American Philosophical Society, he received a Carnegie Corporation of New York Academic Leadership Award in 2015 and was named a member of the Order of Canada in 2016.
About IDI:
The Israel Democracy Institute (IDI) is an independent center of research and action dedicated to strengthening the foundations of Israeli democracy. IDI works to bolster the values and institutions of Israel as a Jewish and democratic state. A non-partisan think-and-do tank, the institute harnesses rigorous applied research to educate decision makers and help shape policy, legislation and public opinion. The institute partners with government, policy and decision makers, civil service and society, to improve the functioning of the government and its institutions, confront security threats while preserving civil liberties, and foster solidarity within Israeli society.