Press Release
IDI Establishes the Joan and Irwin Jacobs Center for Shared Society
The Israel Democracy Institute announced today the establishment of the Joan and Irwin Jacobs Center for Shared Society and the creation of a prestigious new Distinguished Fellowship for former policymakers. Former President Reuven Rivlin will serve as the inaugural Joan and Irwin Jacobs Distinguished Fellow at IDI.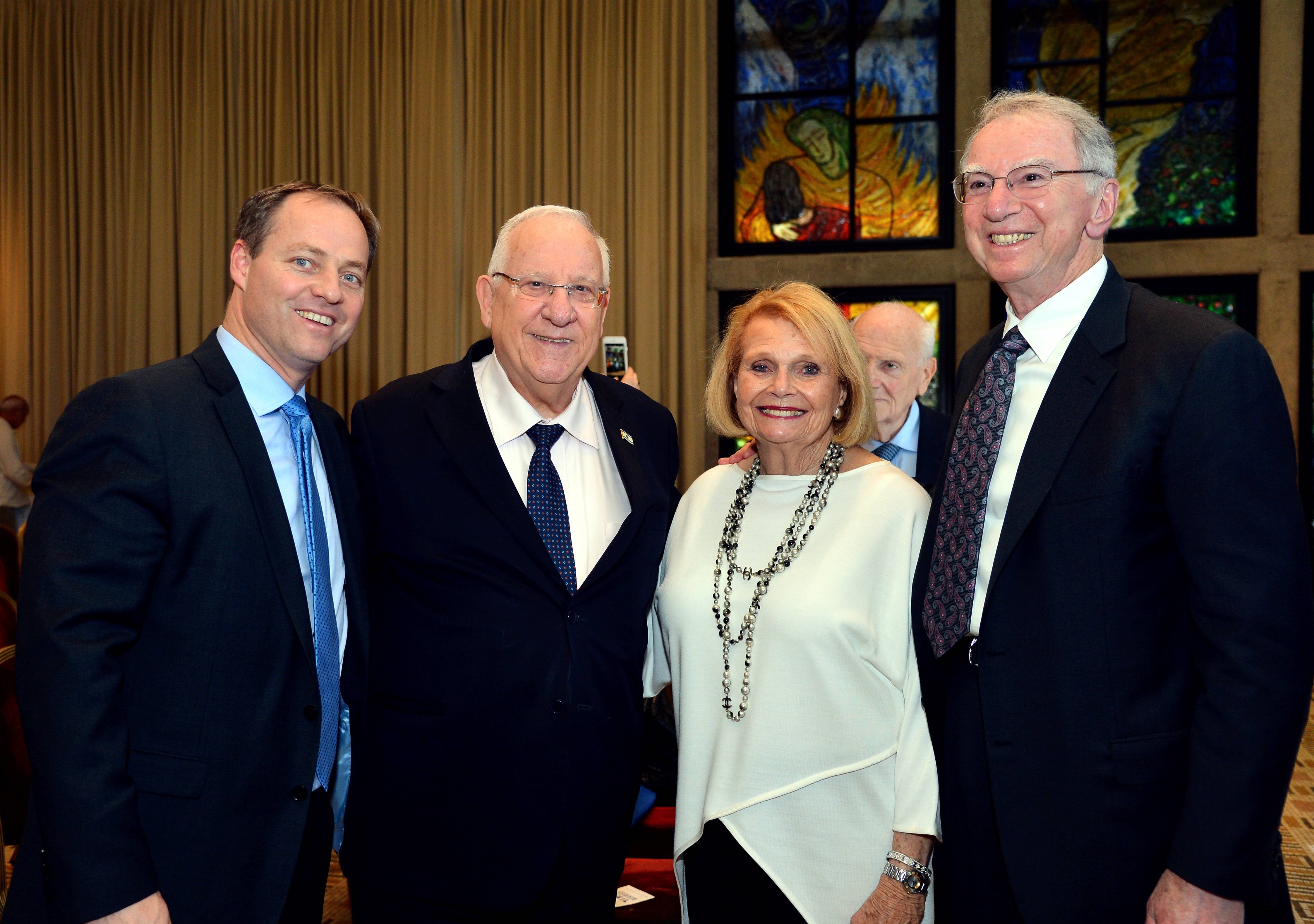 The Jacobs Center for Shared Society will focus on bringing Israelis together and strengthening their commitment to core democratic values and institutions. It will build on existing initiatives underway at IDI's current five centers of research and action to promote elements of President Rivlin's 'Israeli Hope' initiative. The new fellowship—the first of its kind in Israel—will provide distinguished former senior policymakers who have demonstrated extraordinary commitment to Israeli democracy with a platform for continued research and policy entrepreneurship.
The new Center and Fellowship were made possible by a $21 million gift from Joan and Irwin Jacobs of California. Dr. Jacobs is the Founding Chairman and CEO Emeritus of mobile chipmaker Qualcomm. The Jacobs are internationally renowned philanthropists and signees of the Giving Pledge. Their support has been instrumental in strengthening institutions of higher education and civic society in the US and Israel.
Irwin Jacobs noted that "After several years of participating in IDI activities, Joan and I enthusiastically support this expansion of important functions of the IDI, especially valuable during these troubling times for democratic societies. We have long been impressed with IDI's mission to bolster the values and institutions of Israel as a Jewish and democratic state, one with a Bill of Rights for all its citizens and ultimately a constitution. We are pleased that this gift will provide lasting support for IDI's Center for a Shared Society with its commitment to unite Israelis of diverse backgrounds, helping ensure their peaceful and productive lives. The tipping point for us was the naming of President Rivlin as the inaugural Distinguished Fellow, enabling him to pursue his 'Israeli Hope' initiative."
IDI President Yohanan Plesner thanked the Jacobs family for their gift: "My colleagues and I are deeply grateful for the visionary leadership and incredible generosity of Joan and Irwin Jacobs. They have made a momentous contribution to IDI's current and future capacity for impact, and to ensuring the vitality of Israeli democracy for decades to come."

Former President Reuven Rivlin: "Israel has no greater task than unifying its diverse sectors of society and fortifying the institutions and values that bind us all together. I thank the Jacobs family of San Diego for their commitment to the State of Israel and look forward to working with the experts at IDI on building a shared society that ensures the future of the State of Israel as the world's only Jewish and democratic state."
About Joan and Irwin Jacobs:
Joan and Irwin Jacobs are active philanthropists living in La Jolla California near their 4 sons, 10 of 14 grandchildren, and 1 great granddaughter. Joan was born in New York, Irwin in New Bedford Massachusetts, and they met as sophomores at Cornell University, marrying in 1954 just after Joan graduated. Irwin continued his studies, earning his SM and ScD at MIT, then remaining as a faculty member in the electrical engineering department for 7 years where he co-authored the first textbook on digital communications, Principals of Communication Engineering. Attracted by California, they moved their family to La Jolla in 1966 where Irwin taught for the next 6 years at the then new University of California San Diego (UCSD). Shortly thereafter, along with two faculty from UCLA, Andrew Viterbi and Leonard Kleinrock, he cofounded his first company, Linkabit, leading it as CEO and chairman through 15 years of rapid growth developing and manufacturing innovative government and commercial products. In 1980, Linkabit merged with M/A-COM, a New York stock exchange company. Irwin retired from Linkabit in April 1985 and 3 months later co-founded Qualcomm with six others from Linkabit. He guided Qualcomm to a dominant position in mobile communications as CEO through 2005 and Chairman through 2008. Qualcomm currently has over 50,000 employees and remains a leader in the wireless industry, most recently in 5G cellular. Among many awards, Irwin received the National Medal of Technology from President Clinton in 1994 'for his vision, innovation and leadership in the field of digital wireless communications …'."
Joan received her bachelor's degree from Cornell University and an honorary doctorate in Fine Arts from the University of Massachusetts. She has served as board chair of the San Diego Symphony Endowment Fund, the UCSD Health Advisory Board of the Jacobs Medical Center, and the Friends of the Stuart Collection responsible for more than 20 site-specific contemporary sculptures on the UCSD campus. As board member, she was instrumental in reestablishing the La Jolla Playhouse in 1983 on the UCSD campus and, in 2008 with Irwin, was a founding board member of the Lang Lang Foundation. She cofounded the International Collectors of the Museum of Contemporary Art San Diego, led the selection and installation of art throughout the Jacobs UCSD Medical Center and, with Irwin, donated the magnificent Jeff Koons Party Hat Orange for the entrance lobby. She is a Trustee Emeritus of the UCSD Foundation.
Dr. Jacobs and his wife Joan were among the first signers of the Giving Pledge, and have provided substantial support to the UC San Diego Jacobs School of Engineering, the UCSD Jacobs Medical Center, the Jacobs Technion-Cornell Innovation Institute on New York's Roosevelt Island, the San Diego Symphony including the Rady Shell at Jacobs Park, the San Diego Central Library, the Jacobs-Cushman San Diego Food Bank, the High Tech High Charter School System, the Conrad Prebys Performing Arts Center, the Museum of Contemporary Art San Diego, the American Civil Liberties Union, Planned Parenthood, the University of San Diego Jacobs Institute for Innovation in Education, as well as Annual Scholarships and/or Fellowships for students at Cornell, MIT, Technion, UCSD, and New Bedford Public Schools. Together, they have received several awards including the 2015 Philanthropy in the Arts Award from Americans for the Arts and the 2015 Carnegie Medal of Philanthropy.
About IDI:
The Israel Democracy Institute (IDI) is an independent center of research and action dedicated to strengthening the foundations of Israeli democracy. IDI works to bolster the values and institutions of Israel as a Jewish and democratic state. A non-partisan think-and-do tank, the institute harnesses rigorous applied research to educate decision makers and help shape policy, legislation and public opinion. The institute partners with government, policy and decision makers, civil service and society, to improve the functioning of the government and its institutions, confront security threats while preserving civil liberties, and foster solidarity within Israeli society.