IDI Releases 2016 Israeli Democracy Index
Significant drop in public trust in government institutions and politicians; tension between Jews and Arabs is most serious point of friction; most Israelis are proud of being Israeli
The 2016 Israeli Democracy Index was presented to President Reuven Rivlin by Israel Democracy Institute (IDI) President Yohanan Plesner at a ceremony at the President's Residence. The Index has been published annually since 2003. It is conducted by a team from the Guttman Center for Public Opinion and Policy Research, headed by Academic Director Prof. Tamar Hermann.
KEY FINDINGS:
In an international comparison, we see that Israel's political instability is rare in its intensity. This contributes to an even greater increase in the public distrust in the political process. Yohanan Plesner, President, Israel Democracy Institute
A lack of trust in the government and its institutions: This year there was another significant drop in the public's trust in most of its institutions compared to last year and the average calculated trust since 2003. At the bottom of the list are political institutions. Public trust in the Knesset stands at 26.5% (versus 35% last year), trust in the government stands at 27% (versus 36% last year) and trust in political parties is down to less than 14% (versus 19% last year).
In addition, trust in several other institutions has started to drop: Trust in the police stands at 40% (versus 42.5% last year), trust in the Supreme Court stands at 56% (versus 62% last year), trust in the President of Israel stands at 61.5% (versus 70% last year), and trust in the media dropped significantly to only 24% (versus 35.5% last year). The only institution that more closely maintained it standing was the Israel Defense Forces; public trust in the IDF by Jewish Israelis is at 90% (versus 93% last year) and at 82% by all Israelis.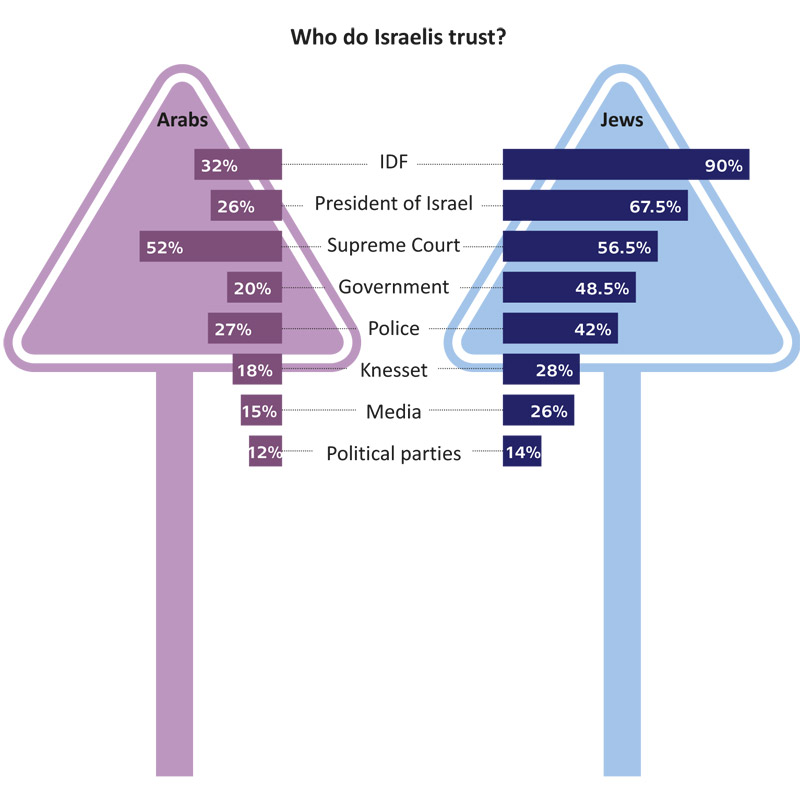 "When political leadership and institutions lack the public's trust, they cannot initiate necessary and fundamental changes at the national level. Moreover, overtime, their legitimacy is eroded. Therefore, the findings of the Democracy Index this year should bother anyone who is concerned about the fate and quality of Israel's governing institutions." Yohanan Plesner, President, Israel Democracy Institute
Politicians and the Public: Three-quarters of Israelis feel that politicians are detached from the needs and problems of their voters. Only a third of the public believes Knesset members work hard and are doing a good job. Some 79% agree with the statement that politicians look out more for their own interests than for those of the public who elected them, and 47% believe there is no party that does a good job of representing their viewpoints (down 10 percent from the same question asked in 2012). Some 61% of Arabs agreed that Arab political leaders worry more about the problems of the Palestinians in the West Bank and Gaza than about their own Arab-Israeli constituents. Finally, 42% of Israelis said to handle Israel's unique problems, we need a strong leader who is not swayed by the Knesset, the media or public opinion.
The State of the People: Despite the lack of trust most Israelis feel for their politicians, most Israelis are proud citizens (86% of Jews and 55% of Arabs, respectively). As in the past, Israelis evaluate the general situation in Israel as positive. Some 36% of respondents assess Israel's overall situation as "good" or "very good," 40% say it is "so-so" and less than one-quarter (23%) view the overall situation as "bad" or "very bad." In addition, the majority of Jews (78%) and Arabs (60.5%) categorize their personal situation as "good" or "very good." Some two-thirds of Israelis are optimistic about Israel's future. Most Jews (71%) agree that Israelis can always rely on each other in a time of need. The Arab public is divided on this question (42% agree and 44.5% disagree).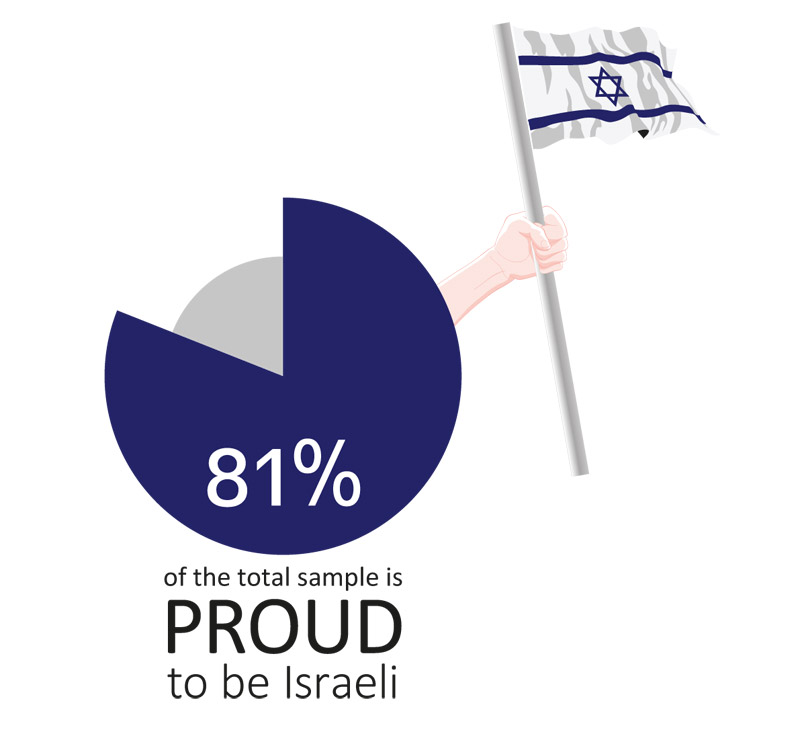 "The soul of any democracy is the existence of diplomatic alternatives and ideas and the willingness to enable a pluralistic and protected environment that encourages criticism, challenges and conflicts." President Reuven Rivlin
Democracy and Civil Rights: There is a general consensus (85%) that Israel's democratic regime should be maintained, if only to deal with the major challenges confronting the country. A majority of Jews (57%), and an even larger majority of Arabs (78%), agree with the statement that freedom of expression should be protected, even for people who speak out against the state. But when it comes to carrying that out, there are problems in internalizing central democratic values and there is a low-level of tolerance for critical opinions. For example, 71% of Jewish respondents and 23% of Arab respondents believe human- and civil-rights organizations like the Association for Civil Rights and B'Tselem cause damage to the state, an increase of 15% over last year. Moreover, more than half of Jewish Israelis (52.5%) said people who are unwilling to affirm that Israel is the nation-state of the Jewish people should lose their right to vote.
Although there is still wide support for basic democratic principles, there is increasing willingness to marginalize minorities, especially the Arab minority. The survey found that the Arab minority wants to further integrate into Israeli society, although an increasing share opposes the right of Israel to define itself as the nation-state of the Jewish people. Professor Tamar Hermann, Academic Director, Guttman Center for Public Opinion and Policy Research
Jewish-Arab Relations: A majority of Jewish Israelis (53%) said there is widespread is collective discrimination against Arabs in Israel. Despite this, almost half of Jewish Israelis (44.5%) support the idea that Israel, as a Jewish-democratic state, allocates more funding to Jewish localities than to Arab ones. There continues to be opposition to including Arab parties in the government and appointing Arab ministers (59%), despite 72% of Arabs expressing willingness to have Arab parties join the government and serve in the Cabinet. Our findings show that both Arabs and Jews are opposed to intermarriage with the other group. However, in all the other areas (contact as friends, neighbors, coworkers, fellow citizens, and the like), a majority of Jews of all political orientations and almost all religious groups (apart from the Haredim), and an even larger majority of Arabs, expressed their willingness to engage in close social contact with "the other." This finding would seem to contradict the claims that Jewish Israeli society is becoming racist.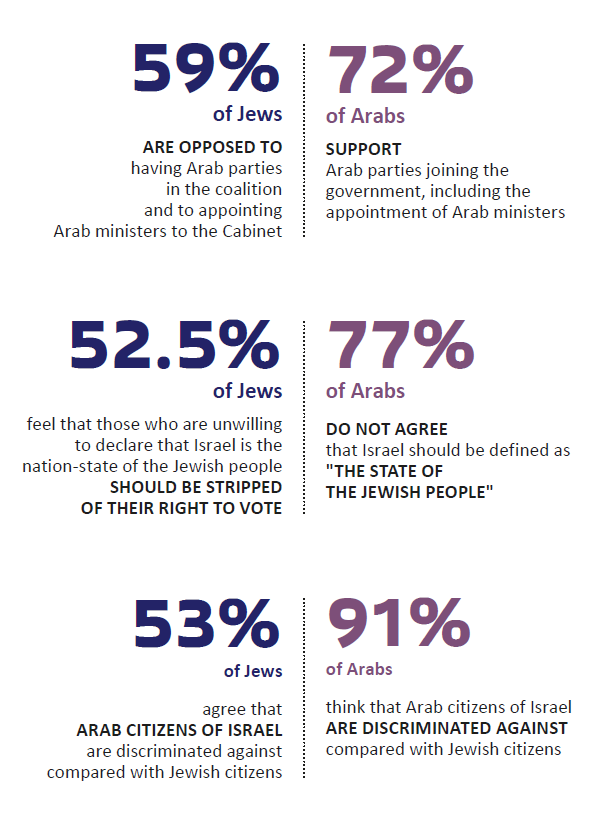 Life with Tension: Some 53% of Israelis believe the primary source of tension in Israeli society is the conflict between Jews and Arabs, a rise of six percent since last year. By comparison, 24% believe the greatest tension is between Right and Left, 10.5% think the greatest tension is between religious and secular Jews, and only 1.5% believe the greatest tension is between Sephardim and Ashkenazim.
Only about one-quarter (26%) of the general public believe there is the proper balance between the Jewish and democratic components of Israel's character. Some 45% believe the Jewish component is too dominant and 23% believe the democratic component is too dominant. One very important finding is that more than three quarters of Arab respondents did not agree with the statement that Israel has the right to be defined as a Jewish state.
Israel's societal structure and its diplomatic challenges are unique. Its division into diverse sectors, that it is surrounded geographically by non-democratic regimes, deals with external enemies, terror attacks and hostile neighbors, put Israel's democracy to complex tests time after time. Overtime, Israel's democracy has withstood these difficult tests. We need to draw on all of our strength in order to be successful and stand up to the current challenges. President Reuven Rivlin
Security and Democracy: This year's survey findings highlight the dilemma of maintaining democratic values in the face of security threats. Some 72% of the Jewish public feels that fateful decisions on matters of peace and security should be made by a Jewish majority only. Roughly 62.5% of Jews said there is no room for ethical considerations in the fight against terror and that all means should be used to prevent terror attacks. Similarly, 51% of Jewish Israelis believe Israel should grant full powers to security forces to investigate terror suspects, free of any legal constraints.
Israel and the World: According to international indicators, the overall state of democracy in Israel is not terrible, but there is still much room for improvement. This year, we examined 12 indicators of democratic quality and government functioning compiled by international research institutes. In six indicators, Israel places in the top quartile of the rankings: political participation, functioning of government, rule of law, perception of corruption, regulatory quality and human development. In four indicators, it is ranked in the second quartile, that is, still in the top half of the rankings for the global indicators that we examined: political rights and civil liberties, freedom of the press, voice and accountability and political risk. In two other areas, Israel's situation is less encouraging, and the country lies in the lower half of the rankings: in the civil liberties indicator, it ranks in the third quartile, and in political stability and absence of violence or terrorism it is located in the fourth and lowest quartile.
During his remarks, Rivlin related to yesterday's news regarding Knesset Member Dr. Basel Ghattas, who was accused of smuggling cell phones into an Israeli prison for two security prisoners who belong to Fatah: "The suspicion against MK Ghattas is among the worst. If it will be proven true, the State of Israel will be required to react with a heavy hand. ... Misuse of those democratic freedoms, especially with the goal of sabotaging Israeli security, is both outrageous and shameful." President Reuven Rivlin
About the Democracy Index
The Israeli Democracy Index is the flagship project of the Guttman Center for Public Opinion and Policy Research. It presents decision-makers, researchers and the public at large with an annual survey of public opinion on the state of Israeli democracy, including trust in government institutions, identification with the state, the Jewish and democratic characters of the state, politics and political activism, economic attitudes, as well as an evaluation of Israel's standing in the democratic world as measured by a number of international indices. Recognizing the importance of a substantive and stable democracy in Israel, the Index is used to identify areas that need to be improved and enhanced in our democratic culture and regime.
The questionnaire for this year's Democracy Index survey was compiled between February and April 2016. The data were collected by telephone between May 1 and May 24, 2016. A total of 1,531 interviews were conducted among the Jewish and Arab public. All interviewees in the survey were aged 18 and over. The maximum sampling error for the total weighted sample is ±2.7%; for the Jewish sample, ±2.94%; for the Arab sample, ±6.6%; and for the Haredi sample, ±5.3%.
For more information or interviews, please contact Maayan Hoffman at jaffemaayan@idi.org.il or +972-50-718-9742.