Press Release
Israel Election Results 2013: What Now? FAQs and Answers
IDI Scholar Explains Israeli Coalition Building Process
ISRAEL ELECTION RESULTS 2013: WHAT NOW? FAQs AND ANSWERS
IDI Scholar Explains Israeli Coalition Building Process
Thursday, January 31, 2013, Israel Democracy Institute, Pinsker 4, Jerusalem – The recent Israeli elections results yielded several surprises, leaving pundits and politicians alike wondering what Israel's political future will bring.  Before speculating about the makeup of Israel's next government, it is crucial to understand the underlying principles that govern the coalition building process.
IDI's Dr. Ofer Kenig has compiled a list of Frequently Asked Questions to help make sense of the next steps for Israel's newly elected 19th Knesset:
How long does it take to build a government?
Not that long! For the past two decades the government has been formed within 20 to 50 days on average after elections.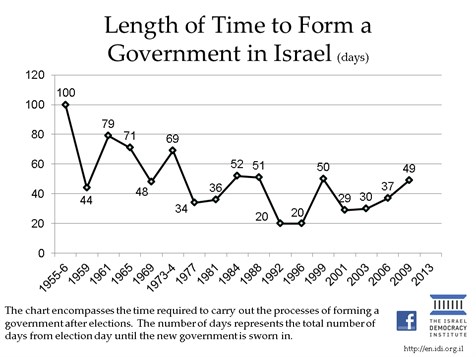 How much time does Benjamin Netanyahu have to build a coalition?
Once Israeli President Shimon Peres tasks Netanyahu with creating the next government, the PM will have 28 days to complete this task. If needed, Netanyahu can request a 14-day extension.
How big is the Israeli Government? How many ministers, deputy ministers, and ministers without portfolio does such a small country need?
Over the course of history, the number of ministers in the Israeli government has more than doubled. In the first Israeli government there were only 12 ministers, but in the outgoing government there were 30 ministers and nine deputy ministers, making it the largest to date.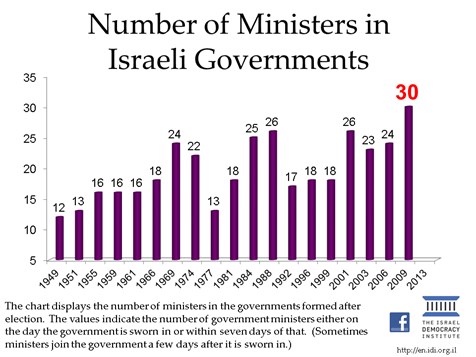 How many ministers does each party get?
In principle, the number of ministers per party is determined by the size of the party relative to the entire coalition. For example, if it is decided that one in four party members will receive a ministerial position, a party with 20 seats will receive five minister portfolios. This is a rule of thumb, and there may be exceptions.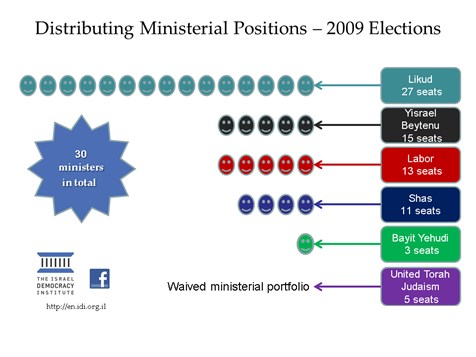 How many parties are usually in the coalition?
In the outgoing coalition there were six parties (Likud, Yisrael Beytenu, Atzmaut (Independence), United Torah Judaism, Bayit Yehudi, and Shas) – which is unusually high. Most democratic coalition governments outside of Israel are made up of between one and four parties.
For more information or to schedule an interview with Dr. Kenig, please contact:
Yehoshua Oz
IDI Director of International Communications
press@idi.org.il
###