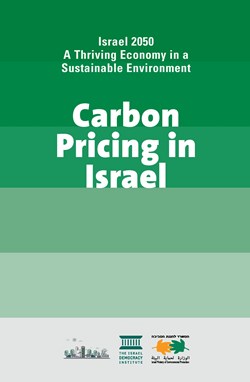 Carbon Pricing in Israel
Israel 2050 | A Thriving Economy in a Sustainable Environment
Written By:

Yuval Laster,

Avital Eshet,

Amir Zalzberg

Publication Date:
Cover Type: Online
Number Of Pages:

118

Pages
Center: Climate Change: Israel 2050
Carbon pricing is meant to solve the major market failure that occurs when a polluter does not pay for the damage caused by its greenhouse gas emissions. Carbon pricing is considered a highly effective way of promoting reductions in greenhouse-gas emissions; it also creates market certainty. Thus, leading international economic organizations recommend its use. Many studies show that it encourages the reduction of greenhouse-gas emissions in practice.

Carbon-pricing mechanisms are practiced in many countries that
are signatories to the Paris Agreement, OECD member countries in particular. These mechanisms have been gaining momentum in recent years as countries extend carbon pricing to more and more sectors and establish increasing price trajectories in order to make sure they meet their international commitments under the United Nations Framework Convention on Climate Change. Israel is also committed to reducing its greenhouse-gas emissions as part of the global effort to curb global warming.
read more