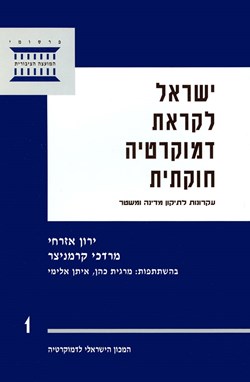 Israel: Toward a Constitutional Democracy
Public Council Conference
Written By:

Margit Cohen,

Eitan Alimi,

Prof. Mordechai Kremnitzer,

Yaron Ezrahi

Publication Date:
Cover Type: Softcover | Hebrew
Number Of Pages:

124

Pages
Center: Constitution by Consensus
Price: 50 NIS
A volume that presents fundamental concepts and values in democratic discourse (such as equality, liberty, and majority rule), clarifies their meaning, and assesses their importance and the need to establish them in a constitution.
read more
This book is an academic prelude to the deliberations of IDI's Public Council. Its main goal is to present basic concepts and values that are related to democratic discourse—such as "equality," "freedom," and "majority rule"—in order to clarify their nature and importance for democratic regimes, and to examine the necessity of constitutional safeguards for them.
IDI's Constitution by Consensus process focuses almost entirely on the Israeli situation and the possibility of drafting a constitution that would be suitable for the State of Israel. In this volume, which serves as an introduction to those deliberations, the authors examine the possibility of safeguarding these democratic values in constitutional legislation. They also note the foreseeable obstacles on the path to anchoring the democratic principles to the future Israeli constitution.