Article
Restrictions on Demonstrations: An International Comparison
As democracies struggle with the balance between health restrictions and freedom of assembly, Israel has limited protests to a one kilometer radius from their homes during the country's lockdown. How does this compare to other democracies?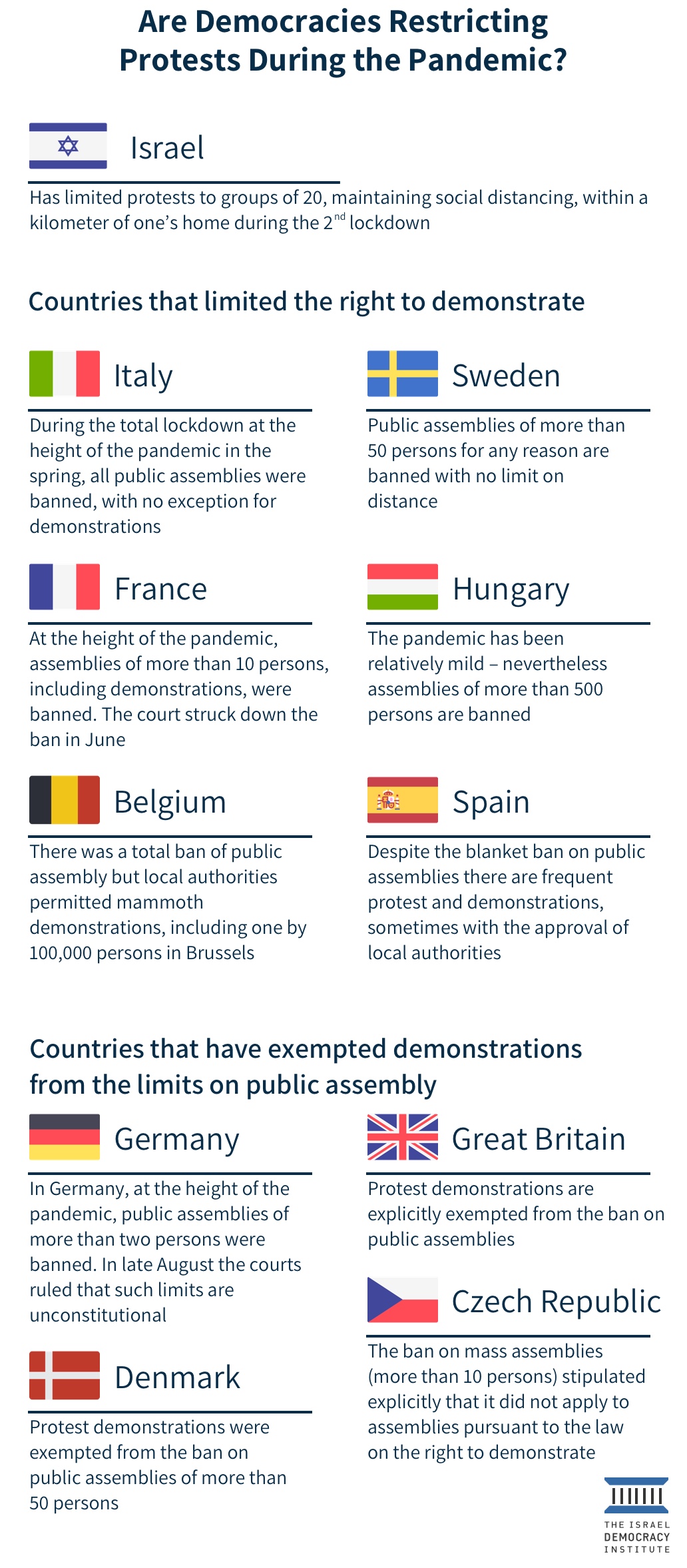 Many countries have responded to the coronavirus pandemic by enacting emergency regulations and statutes banning public assemblies. Some (Great Britain, the Czech Republic, Denmark) made an exception for protest demonstrations. In others, such as France and Germany where exceptions were not made for protests, the courts intervened to make it clear that there was a constitutional principle at stake. In some countries, such as Sweden and Australia, a sweeping ban included demonstrations—but did not prohibit small groups from gathering to demonstrate anywhere they wish (unlike in Israel, where the regulations allow one to demonstrate only within a kilometer of his or her home).
The only western country we could find where all demonstrations were banned at the peak of the pandemic (where a full lockdown was imposed) is Italy. It should be noted however, that Italy was the first country forced to face the crisis, in March 2020, when data on the process of contagion and the relatively minor risk of infection in open spaces were not yet available. Countries that are already deep into the process of de-liberalization and which impose serious restrictions on civil liberties, such as Poland and Hungary, took advantage of the crisis to curtail the freedom of protest as well. 
This comparison reveals that Israel is not the only country that has set limits on the freedom of protest. Limits on the number of demonstrators, the requirement that they maintain a specified distance from one another, and other criteria based on public health considerations have indeed been imposed in a number of countries. Yet it is important to note that no other western country (except for Italy and, to some extent, Spain) has restricted the right to protest by barring people from demonstrating, even in small groups, outside government buildings, if the site is further than a kilometer from their own front door.
Countries that have exempted demonstrations from limits on public assembly
Germany
In Germany, at the height of the pandemic, public assemblies of more than two persons were banned. There were several attempts by local government to restrict the right of protest and demonstration. The courts ruled that such limits are unconstitutional (most recently in late August). Protests have been taking place in Berlin against the restrictions imposed to curb the pandemic.
Great Britain
Protest demonstrations are explicitly exempted from the ban on public assemblies (in June, gatherings of more than 6 persons were banned). There are broad definitions of what constitutes an organized protest demonstration, and a requirement to utilize all reasonable means to protect the participants' health.
Denmark
Protest demonstrations were exempted from the ban on public assemblies of more than 50 persons.
Czech Republic
The ban on mass assemblies (more than 10 persons) explicitly stipulated that it did not apply to assemblies in line with the law on the right to protest.
Countries that have limited the right to protest
Israel
Has limited protests to groups of 20, maintaining social distancing, within a kilometer of one's home during the 2nd lockdown.
Italy
During the full lockdown at the height of the pandemic in the spring, all public assemblies were banned, with no exception made for demonstrations.
Sweden
Public assemblies of more than 50 persons are banned.
France
At the height of the pandemic, assemblies of more than 10 persons, including demonstrations, were banned. The court struck down the ban in June.
Australia
Public assemblies of more than 20 persons are banned, with no exception made for demonstrations.
Poland, Hungary
In keeping with the "illiberal democracy" in these countries, freedom of protest was curtailed when the emergency laws were enacted, without exception. At the height of the pandemic, Poland banned assemblies of more than 2 persons. In Hungary, where the pandemic has been relatively mild, assemblies of more than 500 persons are banned.
Belgium
There was no exception made for protest demonstrations (as part of the total ban on public assembly other than for purposes specified by the government), but local authorities permitted massive demonstrations, including a demonstration with 100,000 participants in Brussels, in support of the Black Lives Matter movement.
Spain
Despite the blanket ban on public assemblies, there are frequent protests and demonstrations, sometimes with the approval of local authorities.
Portugal
The first state of emergency allowed no exception for demonstrations and they were banned, though several did take place with special authorization. Later, the state of emergency was eased and no longer applied to demonstrations
Bans on Citizens Leaving the Country
Most of the countries surveyed here did not impose an across-the-board ban on their citizens' leaving the country, even when shutting their borders to foreigners. This was the case in Germany, Great Britain, and other countries. Some countries did bar their citizens from leaving, whether by shutting their borders with no exceptions (South Africa) or by prohibiting their citizens from going abroad —such as Malaysia and Belgium (except for essential matters), and Australia (with some exceptions).