Article
The Passing of Supreme Court Deputy President Mishael Cheshin: A Loss to the People and State of Israel
IDI Vice President Prof. Mordechai Kremnitzer remembers Israeli Supreme Court Deputy President Mishael Cheshin, a luminary of the Israeli judicial system and warrior against governmental corruption, who regularly spent time at IDI and whose clear voice on legal issues will be sorely missed.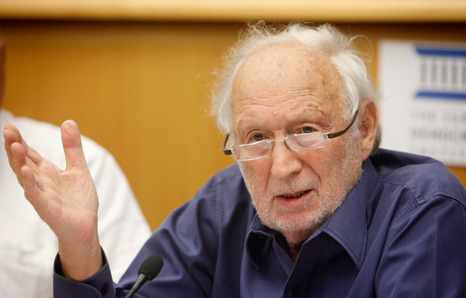 There are four ways that one can serve the law: legal research and teaching representing the state in court, private-practice law, and adjudication. Mishael Cheshin was a multifaceted individual that brought all of these experiences together. He was a researcher and lecturer of the Hebrew University of Jerusalem, a deputy attorney general, a private attorney and a justice, and Deputy President of Israel's Supreme Court. In all four of these roles, there was one common denominator: Cheshin's vast humanity and wisdom, which came shining through.
Mishael Cheshin was a judge with phenomenal ability to analyze the law. He was a bearer of great knowledge, loyal to justice, to the law and the values of the judicial system. And he brought out all these components together in complete harmony.
He was a judge with a sharp mind, yet he was full of heart and emotion. He espoused pearls of wisdom. As a judge, he continued in the direction of those who preceded him. But he did this in his own way, with a remarkable independence of thought. Even those who disagreed with Cheshin's opinions could not help but be impressed by their strength.
Cheshin was an uncompromising warrior against governmental corruption. His minority opinion against the decision to the close the Greek Island case will be remembered in the Golden Book of Israeli law.
Even after he stepped down from his position as a Supreme Court justice, Cheshin continued to dedicate his life to the mission of defending the Supreme Court—its independence, authority, and its ability to function—in the face of its adversaries. He supported the establishment of an appellate court to serve above the District Courts, so that the Supreme Court would be able to fulfil its role.
Cheshin regularly spent time at the Israel Democracy Institute. He was fully committed to Israel as both Jewish and democratic.
Supreme Court President Aharon Barak said of Cheshin upon the latter's retirement, "He was a great judge, one of a kind—more than remarkable!"
The Israeli public will miss Cheshin's wisdom, commitment to Israel's values, and clear voice on legal issues affecting the public agenda. With Cheshin's passing, Israel has lost one of its best sons.