Article
2022 Election Results
The 2022 elections resulted in a clear victory for former Prime Minister Netanyahu, even though voters were split on whether they wanted him back in office. Prof. Kenig explains.

The Balance between the Blocs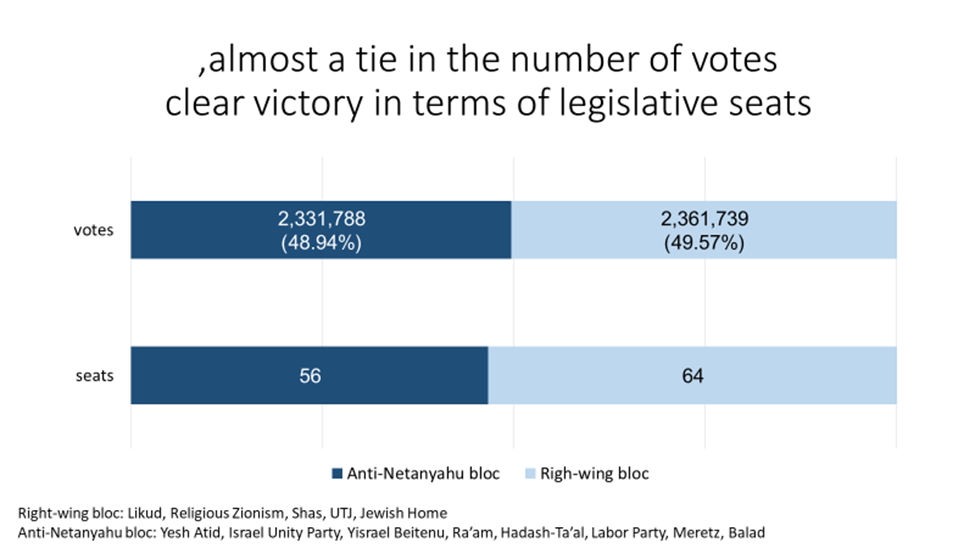 [Lists that did not clear the threshold and are not strongly identified with either bloc have been omitted. Therefore the total is very close to but not exactly 100%.]
In terms of votes received there was near parity between the two blocs. The Netanyahu bloc outpolled the anti-Netanyahu bloc by about 30,000 votes. This is less than the equivalent of one Knesset seat. In practice the election was a tie.
Here the electoral system intervened. While usually first-past-the-post systems (as in the United States, Britain, Canada, and other countries) are associated with results that often do not reflect the voters' preferences, the same can happen in proportional systems  like Israel's. This time, in fact, despite the near tie in votes received, the system produced a clear result: 64 Knesset seats for the Netanyahu bloc.
Netanyahu, as the leader of the rightwing and ultra-Orthodox camp, was smart enough to reach Election Day in optimum condition. None of the lists in his camp was in danger of not clearing the threshold (except for Ayelet Shaked's Jewish Home party); all four lists had signed surplus vote agreements. In other words, the bloc almost fully minimized the risk that its votes would go to waste.
By contrast, the anti-Netanyahu bloc was in bad shape. The split in the Joint List and Merav Michaeli's refusal to have Labor and Meretz run on a single slate left the bloc with eight lists, five of which were wobbling as election day approached. There were only two surplus vote agreements, leaving four other lists in proud isolation. 
This incompetence exacted a heavy price: Because Meretz and Balad did not pass the electoral threshold, some 300,000 votes were squandered. Labor escaped by the skin of its teeth. Meretz' failure to reach the threshold turned its surplus vote agreement with Labor into a dead letter, leaving only that between Yesh Atid and the National Unity Party as effective.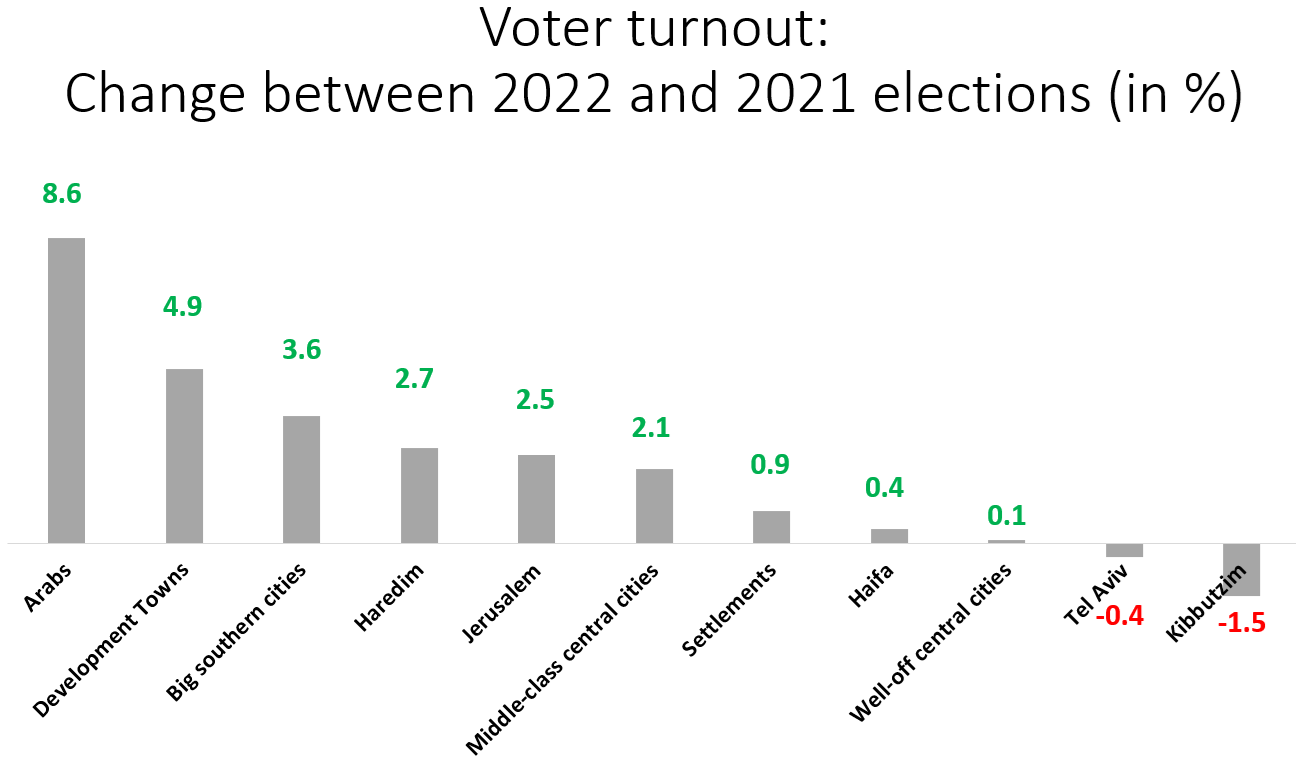 In the home stretch of the campaign, everyone kept saying that the level of the turnout would be decisive.
The graph above shows that the turnout did play a major role in the story.
The Arabs rallied to the flag this time; their turnout rose by 8.5%. Even so, only 53.2% of eligible Arab voters went to the polls, which is much less than the countrywide average. 
In the rest of the country, there was a clear surge in the turnout in Likud strongholds (development towns, big cities in the south, the ultra-Orthodox, Jerusalem) as compared to the elections in 2021.
By contrast, turnout was the same or slightly lower than last year in the strongholds of the center-left (Tel Aviv, kibbutzim).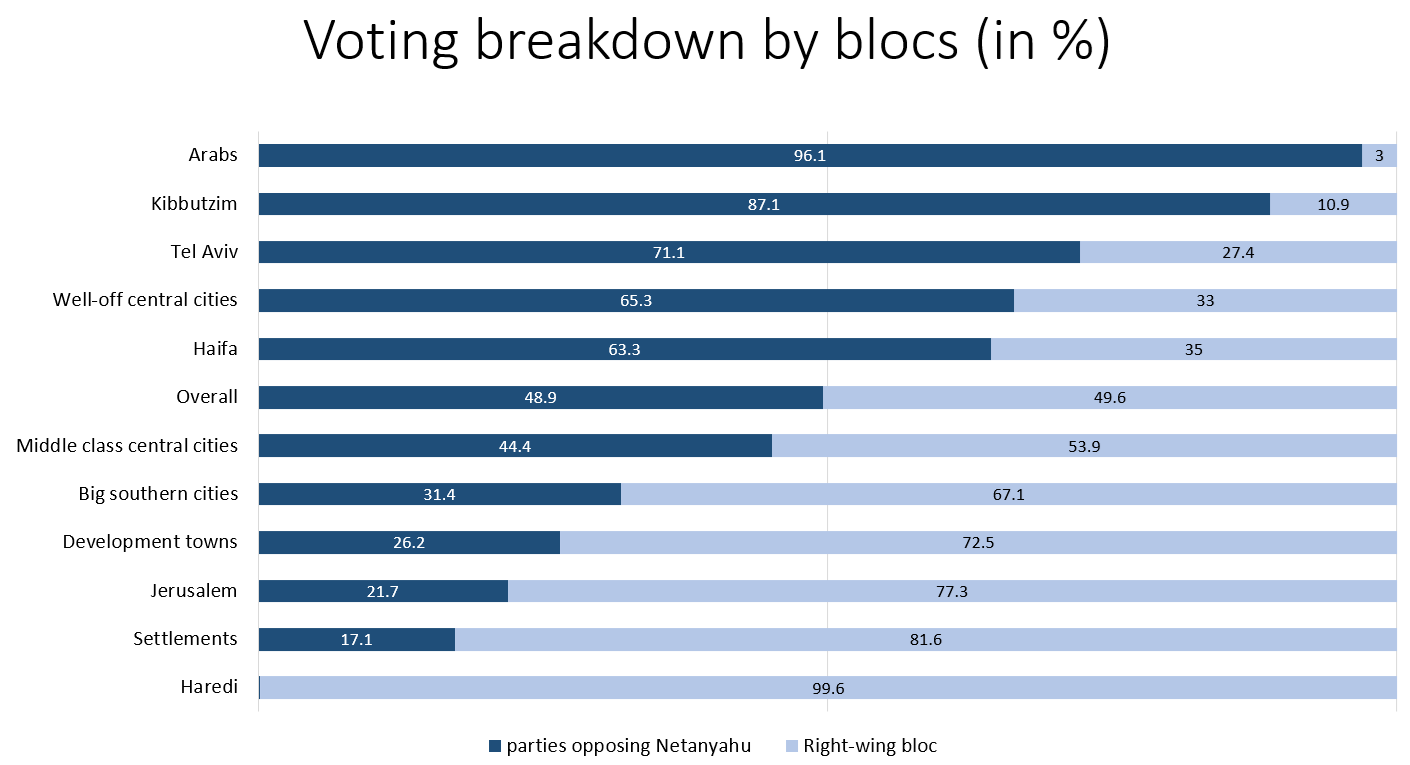 Explanation of the categories
Arabs: Not including the mixed cities
Kibbutzim: Not including those affiliated with the Religious Kibbutz Movement and kibbutzim beyond the Green Line
Well-off cities in central Israel (socioeconomic clusters 8 and 9): Givatayim, Hod Hasharon, Herzliyya, Kefar Sava, Modi'in-Makkabim-Re'ut, Nes Ziyyona, Qiryat Ono, Ramat Gan, Ramat Hasharon, Ra'anana 
Middle-class cities in central Israel (socioeconomic cluster 7): Holon, Petah Tikva, Rosh Ha'ayin, Rishon Leziyyon, Rehovot
Big southern cities: Ashdod, Ashqelon, Beersheva
Development towns: Or Yehuda, Beit She'an, Dimona, Hatzor ha-Gelilit, Yavne, Yoqne'am Ilit, Yeroham, Migdal ha'Emeq, Ma'alot-Tarshiha, Mitzpe Ramon, Nof Hagalil, Netivot, Qiryat Gat, Qiryat Malachi, Qiryat Shemona, Sederot, Shlomi
Settlements: Jewish localities beyond the Green Line, not including the two ultra-Orthodox cities
Ultra-Orthodox (Haredi): On the basis of the voting in the three heavily ultra-Orthodox cities—Elad, Betar Ilit, and Modi'in Ilit