Press Release
No Other Democracy in the World
""In Ireland we have a judicial appointment commission which is mixed, but there are no politicians on the commission and there never has been." Alan Shatter, Former Minister for Justice, Equality and Defense (Ireland)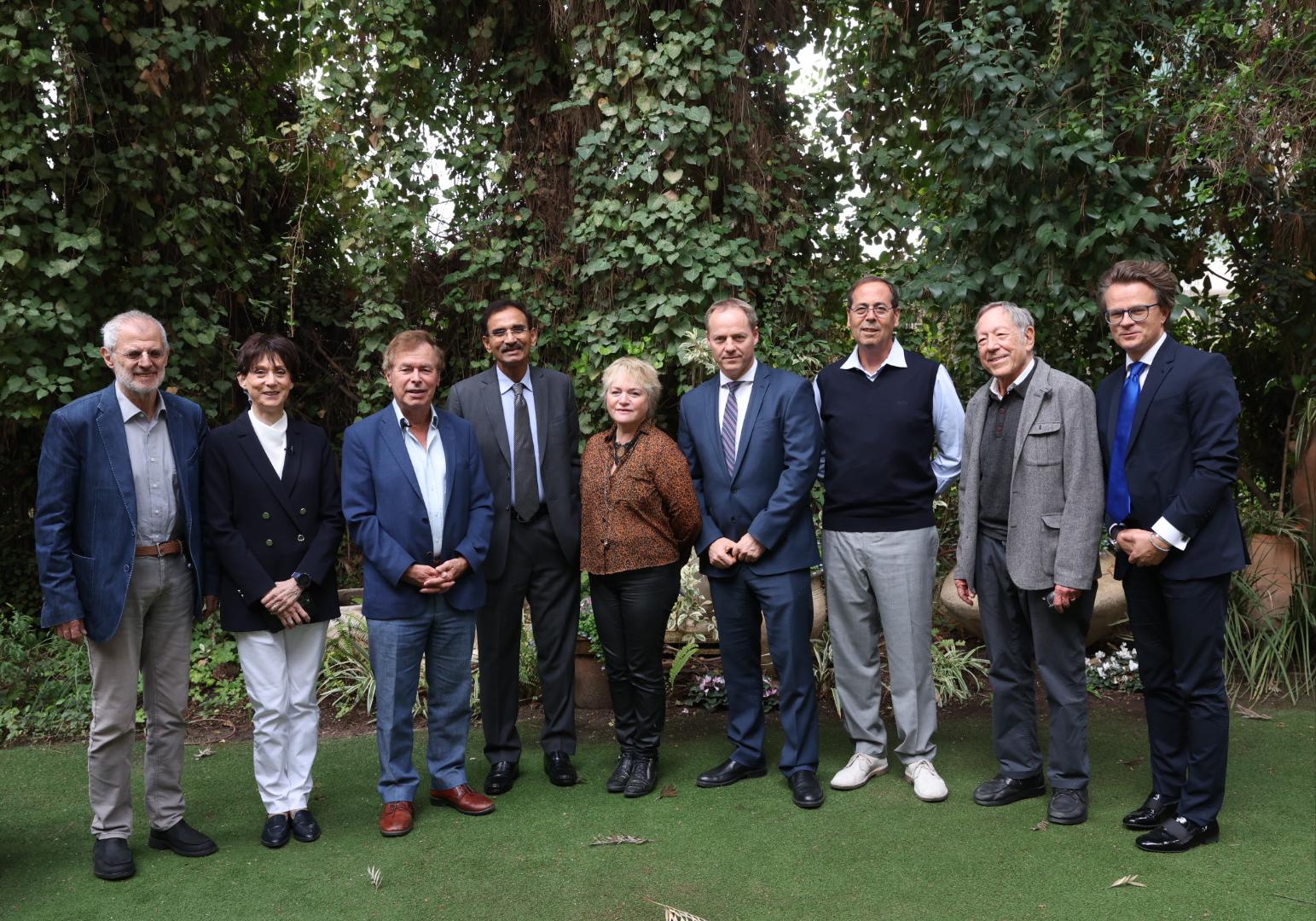 Picture left to right: Prof. Gábor Halmai, Prof. Suzie Navot, Adv. Alan Shatter, Justice Nageswara Rao, Prof. Kalypso Nicolaidis, Yohanan Plesner, Amir Elstein, Prof. Irwin Cotler, Prof. Tomasz Tadeusz Koncewicz
As the Knesset prepares for a final vote next week to politicize Israel's Judicial Selection Committee, IDI convened today (Sunday) an emergency conference in Jerusalem with former justices, justice ministers, and legal experts from around the world.
Though advocates have claimed that the judicial overhaul will bring Israel's judicial selection process closer in line to other parliamentary systems, comparative research shows that the plan to provide an automatic majority to the ruling coalition in selecting justices is almost nonexistent in liberal democracies—certainly not for a Supreme Court that functions both as a constitutional court and the highest court of appeals, as Israel's does.
Highlights
Prof. Tomasz Tadeusz Koncewicz, Director of the Department of European and Comparative Law, University of Gdańsk (Poland) – "If you want to capture and overturn democracy you start with the constitutional court. Functionally, in Poland, it does not oversee the parliament, its function is as an enabler of political power since the court fell it was all a domino effect."
Koncewicz added: Rule of law is a lived experience here in Israel. That is the difference between Israel and Poland and that is why I am optimistic for Israel."
Solicitor Adv. Alan Shatter, Former Minister for Justice, Equality and Defense (Ireland)- "In Ireland we have a judicial appointment commission which is mixed, but there are no politicians on the commission and there never has been."
Shatter continued: "The idea that 61 people from parliament could override a supreme court ruling would undermine international confidence in the Israeli system and the Israeli public's confidence too. It is completely at variance with what is happening in the rest of the world."
Shatter added: "GRECO, which is a group of member countries who are on the anti-corruption committee set out guidelines in 2010 for judicial appointments. Politicians should not be involved directly in the judiciary. I think Israel should become an observer member."
Nageswara Rao, former Supreme Court Justice (India) - "India is the largest democracy in the world. We have been following the Israeli Supreme Court to improve our jurisprudence. We followed judgments on freedom of speech, proportionality, and others."
Prof. Irwin Cotler, former Minister of Justice and Attorney General (Canada) – "There is absolutely no comparison to be made between the proposals being made in Israel and the system in Canada, any comparison is misleading."
Prof. Gábor Halmai, European University Institute, Robert Schuman Centre of Advanced Studies (Hungary) – "About cherry picking: "You may get solutions that work in some place but the end result of this exercise is a 'Frankenstate.' Unfortunately, Hungary has become that state without any guarantee of fundamental rights."
Prof. Kalypso Nicolaidis, Chair in Global Affairs, School of Transnational Governance, European University Institute (EU) - "At the end of the day, the rule of law belongs to everyone. It protects us against any arbitrary power. That is why we must fight for the most precious invention of humankind. What we see in Israel is that citizens understand this."
Prof. Dr. Andreas L. Paulus, former Justice of the Federal Constitutional Court (Germany) - "Democracy is the rule of law for the people and by the people. From that follows the position of independent justices which ensures that the majority can get its programs through, but not at the price of individual rights and the minorities."
Yohanan Plesner, President, Israel Democracy Institute – "… In order to justify this hostile takeover of our judiciary, proponents of the so-called "reform" claim that they are merely implementing a process that exists in other liberal democracies.
But most of the references to best practices in other countries, like the ones made by the Prime Minister on Thursday, when he cited Canada, the United States and Canada, are either deeply misleading or downright false.
Prof. Suzie Navot, Vice President, Israel Democracy Institute - "We still have three important legal gatekeepers with us: The Attorney General. She stands strong against everything that is happening. The Supreme Court is there. And we have the citizens of Israel which is something new and it makes all the difference."
Prof. Amichai Cohen, Senior Fellow, Israel Democracy Institute - "This narrative of politicians [making] appointments completely ignore professionalism and global trends. All [global] changes in judicial appointments have been towards a more professional system."
Prof. Yaniv Roznai, Co-Director, Rubinstein Center for Constitutional Challenges and Deputy Dean, Harry Radzyner Law School, Reichman University - "In Israel, public confidence in the judiciary is twice as high as public trust in politicians so I'm not sure how moving towards a more politicized system will enhance trust in the judiciary system."