Op-ed
Israel's 34th Government: A Profile
On May 14, 2015, the 34th government of the State of Israel—the fourth Netanyahu cabinet—was sworn in. In this article, IDI Researcher Dr. Ofer Kenig presents an overview of the process of forming the government and the profile of its members.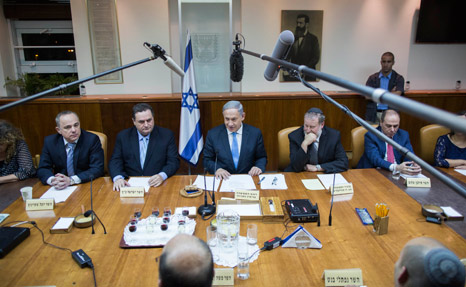 On May 14, 2015, more than five months after early elections were called, Israel's new government finally took office. Israel's 34th government is the fourth government (and the third consecutive government) headed by Prime Minister Benjamin Netanyahu. The new government is supported by a five-party coalition with a slim majority of 61 members of Knesset (MKs) out of 120 (see the table below). The new cabinet includes, with the Prime Minister, 21 ministers. Eleven of them are "new faces" serving their first term as ministers.
The Composition of the Coalition Supporting
Israel's 34th Government
Party
Number of
Knesset seats
Number of
cabinet ministers
Likud
30
13
Kulanu
10
3
Jewish Home
8
3
Shas
7
2
United Torah Judaism (UTJ)*
6
-
Total
61
21
* UTJ does not accept ministerial positions, but one of its members is serving as  Deputy-Minister of Health, and effectively has the powers of a minister.
Israel's diverse society, with its many rifts, combined with its extremely proportional electoral system, creates a multi-party system and a fragmented parliament. The Knesset has never included fewer than 10 parties and a single party has never held a majority of seats. This means that all of Israel's governments have been coalition governments and have included at least two parties, and usually more. The new government is not exceptional in this respect; in fact, it is supported by a coalition with the minimal majority of 61 seats.
Contrary to the expectations following the election results (a resounding victory for Netanyahu and the Likud), the government formation process was complicated and long. It lasted until the very end of the deadline specified by law. No less than 157 days, more than five months, passed from the time that early elections were called (December 2014) until the day the new government took office. This is an extremely long period, during which the country was "on hold."
The first parties to sign a coalition agreement with Likud were Moshe Kachlon's Kulanu and United Torah Judaism (UTJ). Negotiations with other parties took a slow pace and in a surprising move, foreign minister Avigdor Liberman, leader of Yisrael Beytenu, decided not to join the coalition. This move reshuffled the dynamics of the coalition-building process, and gave Shas and the Jewish Home a considerably strong bargaining position vis-à-vis the Likud. The Jewish Home, in particular, took advantage of this situation and succeeded in receiving significant portfolios—the Ministry of Education, the Ministry of Justice, and the Ministry of Agriculture—as well as the chairmanship of the Knesset's Constitution, Law, and Justice Committee. These are impressive achievements for a party with only eight seats.
As mentioned above, the new cabinet includes 11 members who have not been ministers before. Seven of them are from Likud, two from Kulanu, and one each from Shas and the Jewish Home.
Gender
A total of 29 women were elected to the Knesset—an all-time record. Despite this increase in the number of women legislators, however, the new cabinet will include only three women ministers—one less than the former cabinet. All three female ministers are first-time ministers: Minister of Justice Ayelet Shaked (Jewish Home), Minister of Culture and Sports Miri Regev (Likud), and Minister of Senior Citizens Gila Gamliel (Likud).
Age
The former cabinet included only five members younger than 50 and the average age was 58. The new cabinet is much younger, with an average age of 54. Eight of the ministers are younger than 50, with 39-year-old Ayelet Shaked the youngest of all. Five ministers are older than 60, the oldest being Benny Begin (72) and Haim Katz (67).
Parliamentary Experience
In Israel's model of parliamentary democracy, it is rare to see ministers who are not also members of Knesset. All the ministers in the last cabinet were MKs and the new cabinet includes only one extra-parliamentary minister: Avi Gabay, Kulanu's appointment to the Ministry of Environment. Still, the incoming cabinet will include members with relatively long parliamentary experience. Aside from Gabay and Yoav Galant (also from Kulanu), who are new to politics, most ministers are far from being newcomers. Netanyahu and Silvan Shalom (Internal Affairs) have been MKs for 23 years, David Azulai (Religious Services) has been an MK for 19 years, and Yisrael Katz (Transportation and Intelligence) has been an MK for 17 years.
Ethnic Origin, Religiosity, and Non-Jews
The former cabinet included only three Sephardic ministers. The 34th cabinet is much more balanced in terms of (Jewish) ethnic origin. Eleven ministers are of Ashkenazic origin, eight are of Sephardic origin, and two are from "mixed" families. The new cabinet will include two Haredi-Sephardi members (Shas's Aryeh Deri and David Azulai) and three Religious-Zionist members (Likud's Ze'ev Elkin and the Jewish Home's Naftali Bennett and Uri Ariel). Almost as usual (only two non-Jews have served as ministers in the past), there is no non-Jewish minister. However, MK Ayoob Kara (Likud) was appointed as a deputy-minister.