20th Caesarea Forum: The Finance Minister's Session
A session summary from the 2012 Caesarea Economic Policy Planning Forum
The Finance Minister's Session was one of the central events of the 20th Caesarea Economic Policy Planning Forum, known this year as "The Eli Hurvitz Conference on Economy and Society." At this session, Finance Minister Dr. Yuval Steinitz asserted that he is hopeful about the future of the Israeli economy, but warned that increased taxation is unavoidable despite the planned increase in the budget deficit that he had announced a day earlier. Highlights of this session can be found below.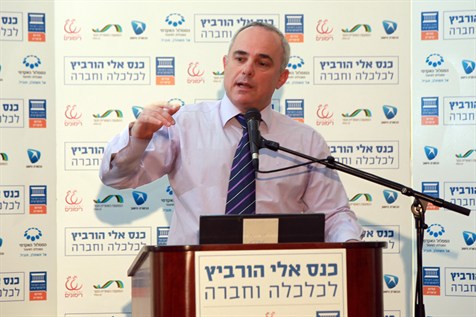 Following introductory words by Prof. Seev Neumann, President of the College of Management, Israeli Finance Minister Dr. Yuval Steinitz began his address by expressing gratitude to the conference organizers. His central topic was the State Budget under construction for 2013—a major focus of public discourse. In his address, Steinitz said that he was confident the Israeli economy would continue to grow, but measures must be taken if it is to weather the economic storm that continues to rock the developed world.

Steinitz stated that the Israeli deficit ceiling would increase to 3% by 2013, with a deficit target of 2% for 2016 and 1.5% for 2019.  He lauded Israel's financial stability through turbulent economic times, but warned that increased taxation as well as budget cuts in multiple areas, including defense, would be needed to maintain economic stability.

The Finance Minister said a growth rate of between 3% and 4% over the coming year would be possible, barring extraordinary external security and economic events. The following conditions, however, would have to be met in order for this rate to be possible:
A continued increase in the participation of Arabs and ultra-Orthodox Jews in the Israeli workforce
Educational reform
Improved infrastructure, especially transportation links that will connect Jerusalem, the Galilee, and the Negev to central Israel.
In his closing statement, the Finance Minister concluded: "Perhaps we have recovered, but…the crisis in the world economy is still there, and it threatens to drag us down into its swampy depths. We must continue our defensive battle on behalf of Israel and make decisions that may not always be popular. However, if we act correctly, with courage and responsibility, and if the nation of Israel understands and internalizes the fact that we are still in the midst of an economic world war, we will be able to not only overcome these crises… but to grow and succeed as well."