Meeting of the Caucus for Strengthening the Knesset
The Knesset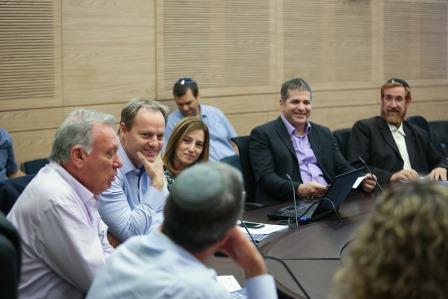 In the first year of the 20th Knesset, more than 2,800 private-member bills have been submitted, only dozens of which will even complete the legislative process. These bills include a bill that would fine businesses that leave the door open with the air conditioner on, a bill that would require restaurants to list the alcohol content on menu items, a bill that would declare the State of Israel the official name of the State of Israel (this bill passed!) and a bill that would lengthen the time traffic light remain green near geriatric centers. 
According to Dr. Chen Friedberg, our MKs are busying themselves with making fleeting headlines, wasting time and resources.
IDI research found that Israeli MKs present more private legislation than in any other parliamentarian system in the world. It was also found that the Knesset is not able to properly monitor the government.
At the caucus, Dr. Friedberg offered IDI recommendations for enhancing the work of the Knesset by growing the ability of MKs to monitor the government and reducing the number of private bills that can be presented.
Knesset members who participated in the July 12 caucus meeting:
MK Eitan Brosh (Zionist Union), MK Yehuda Glick (Likud), MK Haim Jelin (Yesh Atid), MK Yoav Kisch (Likud), MK Ayelet Nahmias-Verbin (Zionist Union), MK Avraham Neguise (Likud), MK Mickey Rosenthal (Zionist Union), MK Elazar Stern (Yesh Atid) and MK Manuel Trajtenberg (Zionist Union).
View IDI's platform for political reform>>
Download Dr. Friedberg's PowerPoint, which was presented at the event>>