Live

Hebrew

Open to the public
Politics and Administration in Ultra-Orthodox Local Authorities | 2022 Annual Conference of the Ultra-Orthodox Society in Israel Program
Conference to mark the publication of Ariel Finkelstein's new book "Politics and Administration in Haredi Local Authorities"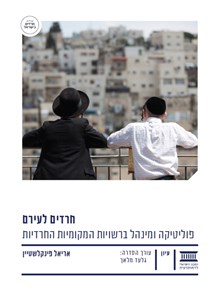 Ultra-Orthodox local authorities are a relatively new phenomenon in Israel, having first begun to emerge in the 1980s. Today there are seven distinctly ultra-Orthodox local authorities, home to around 400,000 residents—approximately 35% of the ultra-Orthodox public in Israel.
Ariel Finkelstein's book Politics and Administration in Ultra-Orthodox Local Authorities examines  what happens when a population group which on the national level, has a minority mindset, is granted powers at the municipal level which are usually held by majority population groups.
The first session of the conference will focus on  local authorities and minority communities in Israel and around the world, and will feature friends and colleagues specializing in of urban studies: Prof. Erez Tzfadia from Sapir College; Dr. Oren Shlomo from the Open University; Dr. Shai Stern from Bar-Ilan University; Dr. Muhammed Khalaily from the IDI  and University of Haifa; and Dr. Lee Cahaner from the Israel Democracy Institute and Oranim Academic College.
The second session will explore the development of different models of ultra-Orthodox residence in urban locales in Israel. The panel will feature members of Knesset, mayors, planners, and representatives of civil society and the public sector.
2.30 – 3.00pm | Reception
3.00 – 3.10pm | Welcome
Prof. Suzie Navot, Vice President, Research, Israel Democracy Institute
Dr. Gilad Malach, Director of the Ultra-Orthodox in Israel Program, Israel Democracy Institute
3.10 – 3.30pm
Yohanan Plesner, President of the Israel Democracy Institute, in conversation with Yitzhak Pindrus, Chairman of the United Torah Judaism Knesset faction
3.30 – 5.00pm
First Session: Local Authorities and Minority Communities
Chair: Prof. Erez Tzfadia, Department of Public Policy and Administration, Sapir College
The Multicultural City: Theory and policy
Dr. Oren Shlomo, Department of Sociology, Political science and Communication, Open University
Shared Space in Heterogeneous Cities: Global and local perspectives
Dr. Marik Stern, Jerusalem Institute for Policy Research; Department of Architecture, Sami Shamoon College of Engineering
Arab and ultra-Orthodox local authorities: Similarities and differences
Dr. Muhammed Khalaily, Israel Democracy Institute; School of Political Science, University of Haifa
Cities and Urbanism: The development of ultra-Orthodox urban space in Israel
Dr. Lee Cahaner, Israel Democracy Institute; Department of Geography and Environmental Studies, Oranim Academic College
Urban renewal in the ultra-Orthodox Space
Dr. Shai Stern, Faculty of Law, Bar-Ilan University
Open Discussion
5.00 – 5.15pm | Break
5.15 – 6.25pm
Second Session: What is the right model for ultra-Orthodox urbanism?
Chair: Dr. Gilad Malach
Panel discussion:
Yitzhak Ravitz, Mayor of the Kiryat Ye'arim Local Council
Edit Bar, former Deputy Director General, the Ministry of the Interior
Bentzi Rakow, Urban planner and head of the housing program, Haredi Institute for Public Affairs
Liat Malka, Director of the Shared Society Department, strategic partnerships  and the ultra-Orthodox, ATID educational network
Yisrael Pachter, City council member, Beitar Illit municipality
Michal Chernovitzky, Director of Haredi program, Berl Katznelson Foundation
6.25 – 6.40pm
Prof. Suzie Navot in conversation with Aviad Friedman, Director General of the Ministry of Construction and Housing
6.40 – 6.45pm | Conference Summary
Ariel Finkelstein, Researcher at the Ultra-Orthodox in Israel Program and head of the Local Government Project, Israel Democracy Institute
The Conference will be live-streamed here