Do Religious Parties Have a Future?
The Israel Democracy Institute 4 Pinsker Street, Jerusalem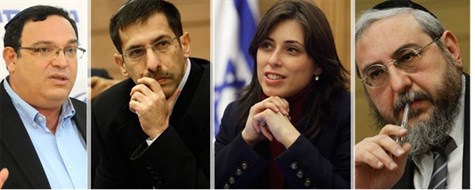 While religious parties have maintained their power over the years, more and more religiously-observant politicians are running on non-sectoral party tickets and many religiously observant Jews prefer to vote for general parties rather than for religious ones. Given that, are religious parties still relevant in Israel today or are they an unnecessary throwback to a previous era?
On Wednesday January 2, 2013, before the elections for the 19th Knesset, IDI's George Shultz Roundtable Forum brought together MKs Chaim Amsellem, Tzipi Hotoveli, and Uri Orbach, Knesset candidate Rabbi Shay Piron, and a host of experts and scholars for a rountable on this topic.
This Hebrew event was broadcast live on the IDI website.
Religious MKs Expected in the 19th Knesset by Party
(Based on a Dahaf poll of anticipated mandates
conducted on December 18, 2012)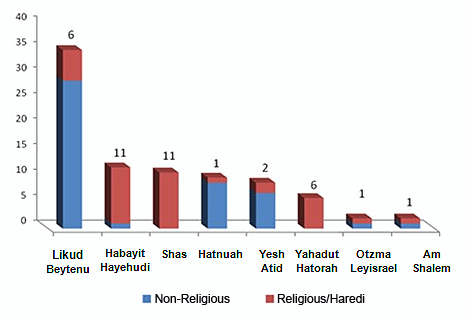 Likud-Beytenu: Zeev Elkin, Tzipi Hotovely, Yuli Edelstein, David Rotem, Moshe Feiglin, Shimon Ohayon. Habayit Hayehudi: Naftali Bennett, Uri Ariel, Nissan Slomianski, Eliahu Ben-Dahan, Uri Orbach, Zevulun Kalfa, Avraham Wertzman, Moti Yogev, Orit Struck, Yoni Shatbon,Shuli Muallem. Shas: Eliyahu Yishai, Aryeh Deri, Ariel Atias, Yitzhak Cohen, Meshulam Nahari, Amnon Cohen, Yakov Margi, David Azoulay, Yitzhak Vaknin, Nissim Zeev, Avraham Michaeli. Hatnua: Elazar Stern. Yesh Atid: Shay Piron, Aliza Lavie. United Torah Judaism: Yakov Litzman, Moshe Gafni, Meir Porush, Uri Maklev, Menachem Eliezer Moses, Israel Eichler. Otzma Leyisrael: Michael Ben Ari. Am Shalem: Chaim Amsellem.
Moderator: Ms. Sivan Rahav-Meir, Channel 2 News
Speakers:
MK Rabbi Haim Amsellem, Am Shalem Party
MK Tzipi Hotovely, Likud Party
MK Uri Orbach, Habayit Hayehudi Party
Prof. Ella Belfer,  Head of the Department of General History, Bar-Ilan University
Prof. Asher Cohen, Department of Political Studies, Bar-Ilan University
Dr. Orit Galili-Zucker, University lecturer in departments of communications and political science
Mr. Moshe Grylak, Editor in Chief, Mishpacha magazine
Prof. Asa Kasher, Professor Emeritus, Tel Aviv University
Rabbi Itshak Levi, IDI Head of Implementation; Former Minister of Education and MK of the National Religious Party
Mr. Akiva Novick, correspondent on settlements and Haredim, Yedioth Ahronoth
Rabbi Shay Piron, Head of Yeshivat Petach Tikva and candidate on Yair Lapid's Yesh Atid Party List
Mr. Yair Sheleg, IDI Research Fellow; Journalist for Makor Rishon
Professor Yedidia Stern, IDI Vice President of Research; Member of Faculty, Bar-Ilan University
Mr. Chili Tropper, Educator and Social Activist, candidate for the Labor Party