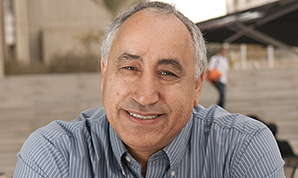 Prof. Ismael Abu-Saad
FORMER Senior Fellow, Arab Society in Israel Program, Center for Democratic Values and Institutions
Ismael Abu-Saad is a Professor of Educational Policy and Administration in the Department of Education, founding director of the Center for Bedouin Studies and Development, and the holder of the Abraham Cutler Chair in Education at Ben-Gurion University of the Negev in Beer-Sheva. He holds a Ph.D. from the University of Minnesota, USA.
Professor Abu-Saad received the Outstanding Achievement Award from the University of Minnesota in 2004. His research interests include inequality in education and access to higher education among indigenous societies, management and culture in multicultural societies, and Arab education in Israel.
He has authored and edited over one hundred publications, including the books (co-edited with D. Champagne) Indigenous Education and Empowerment: International Perspectives, Walnut Creek, CA: AltaMira Press, 2006 and The Future of Indigenous Peoples: Strategies for Survival and Development, American Indian Studies Center, UCLA, 2003; and (co-authored with K. Abu-Saad, and T. Horowitz) Weaving Tradition and Modernity: Bedouin Women in Higher Education. Beer-Sheva: Ben-Gurion University of the Negev press, 2011.