Press Release
Professor Eytan Sheshinski joins the Israel Democracy Institute (IDI) as a Senior Researcher in the Center for Governance and the Economy
Top Israeli economist, Professor Eytan Sheshinski, has joined IDI as a senior researcher in the Center for Governance and the Economy, under the leadership of Dafna Aviram-Nitzan.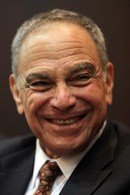 Sheshinski will deal with the challenges of society and economy in Israel, in the mid to long-term, including reforming the pension system and reducing the inequality inherent in it. His work comes on the backdrop of concerns that maintaining the current situation will jeopardize the future of pensions for Israel's young people. Sheshinski's preliminary conclusions will be presented later this year at IDI's Eli Hurvitz Conference on Economy and Society.
Sheshinski's areas of expertise include public economy, the economy of natural resources and pension systems.
Sheshinski is a member of the Royal Swedish Academy of Sciences and was a guest lecturer in leading universities around the world. He headed many governmental committees, including those that decided on how to tax natural gas, oil and other natural resources. The conclusions of his work were adopted by the Knesset (Sheshinski Law of 2011 and the second Sheshinski Law of 2015). Sheshinski also served as head of the board of directors of Koor Industries, Ltd. and the boards of multiple other large public companies. He is a professor (emeritus) in the department of economics at the Hebrew University.
To set up an interview with Prof. Sheshinski, please contact Maayan Hoffman, Director of International Communications, at 972-50-718-9742 or jaffemaayan@idi.org.il.