Press Release
IDI and Israeli Police Leadership Meet to Ensure Clean Elections
On 9 February 2015, the senior command of the Israel Police, led by Commissioner Yohanan Danino, met with the heads of the Israel Democracy Institute for consultations ahead of the elections for the 20th Knesset. The session focused on the importance of clean elections and how to ensure them.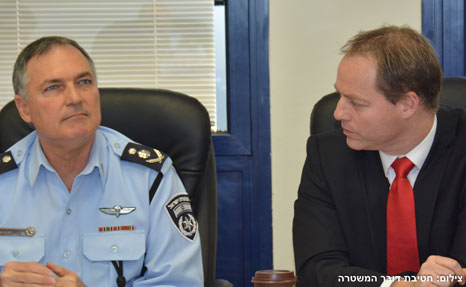 At the start of the meeting, IDI President Yohanan Plesner observed that "a strong police force is in everyone's interest…. The cooperation between IDI and the senior command of the Police is essential. It includes joint thinking about the goals we all share—first and foremost, strengthening Israeli democracy. The Police play a central role in strengthening democracy by ensuring fair and clean elections, which are essential for the legitimacy of the government in any democratic society."
IDI Vice President Prof. Mordechai Kremnitzer said: "We provide you, the members of the senior command, with a mirror in which you can see yourselves. In the reflection that you see, the Police are operating on the basis of relevant and untainted considerations, and the charge that they are motivated by political considerations is groundless libel. We must not undermine the foundations of the authority of the Police or the public's confidence in you. That would endanger the democratic system itself.
"With regard to clean elections," continued Prof. Kremnitzer, "it is better if the political system supervises the process itself, without involving the police by having representatives of all of the parties monitor the voting. Where that is not possible, however, the police must maintain a visible presence and be on the spot in order to keep the elections clean."
Professors Tamar Hermann and Gideon Rahat, both IDI Senior Research Fellows, also spoke with the senior police commanders.
According to Prof. Hermann, "Citizens still see elections as an 'island' of normative conduct. If this island also sinks beneath the waves, the entire system could well lose its legitimacy. We are getting too close to a situation in which the public has become desensitized to corruption and no longer sees it as a factor when going to the polls. This is a perilous situation for democracies, one that is characteristic of Third World countries." As for voter turnout, Prof. Hermann noted that "turnout in Israel is relatively high, in part because people feel deeply involved and are interested in and knowledgeable about Israeli politics."
During the discussion, Prof. Gideon Rahat said: "One fiasco, in one election campaign, would be enough to have very harsh repercussions for democracy. This is why the Police play a critical role in safeguarding clean elections. Studies have found that the likelihood of corruption increases in places where there is poverty and a low level of education or in places where citizens feel alienated from the system."