Press Release
Meretz, Yisrael Beytenu MKs to Receive Outstanding Parliamentarian Award
IDI Recognizes MKs Nitzan Horowitz and Orly Levy-Abekasis for Exceptional Legislative Activities
MERETZ, YISRAEL BEYTENU MKS TO RECEIVE
OUTSTANDING PARLIAMENTARIAN AWARD
IDI Recognizes MKs Nitzan Horowitz and Orly Levy-Abekasis for Exceptional Legislative Activities
Monday, February 11, 2013, Israel Democracy Institute, 4 Pinsker St., Jerusalem - As the 19th Knesset begins to take shape, both new and returning Knesset Members can learn from the model set by exceptional lawmakers of the previous Knesset. The Israel Democracy Institute (IDI) confers its Outstanding Parliamentarian Award to honor those Knesset Members who have truly outstanding legislative records.
This year's award will be given to MKs Nitzan Horowitz (Meretz) and Orly Levy-Abekasis (Yisrael Beytenu). Both Knesset Members made serious efforts to promote issues that are often overlooked, including the rights of women, children, residents of the periphery, and immigrant rights as well as promoting environmental protection.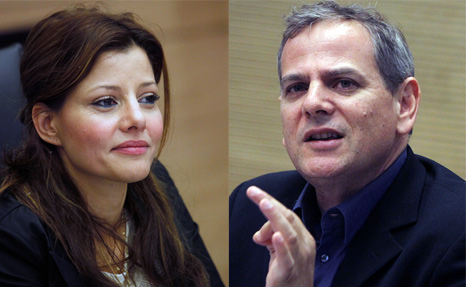 MKs Orly Levy-Abekasis (left) and Nitzan Horowitz (right)
The criteria used for selecting awardees includes measurable statistics such as attendance at Knesset committee meetings, completed legislation, and various parliamentary activities such as the submission of parliamentary questions, motions for the agenda, and plenary speeches. The selection committee was chaired by Israeli Supreme Court Vice President (Ret.) Justice Theodore Or and included Former Ministers Yair Tzaban and Rabbi Itzhak Levy, Former MK Prof. Menachem Ben-Sasson, Former Israeli Ambassador to the UN Prof. Gabriela Shalev, and Israel Prize laureate historian Prof. Anita Shapira.
MKs Levy-Abekasis and Horowitz were selected on the basis of their outstanding parliamentary activity and contributions to the Israeli democratic process. MK Horowitz chaired the Committee on Foreign Workers and MK Levy-Abekasis chaired the Committee on the Rights of the Child. Both MKs were highly active in proposing multiple bills and in using their parliamentary roles to supervise and oversee the work of government ministries.
2011 Outstanding Parliamentarian Award recipients were MKs Dov Khenin of Hadash, Uri Maklev of United Torah Judaism, and Zevulun Orlev of Bayit Yehudi.
A formal invitation to the awards ceremony will be sent in the coming weeks.
For more information, contact:
Yehoshua Oz
IDI Director of International Communications
press@idi.org.il
###