Outstanding Parliamentarian Award 2011
The Israel Democracy Institute4 Pinsker Street, Jerusalem
On February 2, 2012, IDI awarded its Outstanding Parliamentarian Award in a ceremony attended by Knesset Speaker MK Reuven Rivlin and Finance Minister Dr. Yuval Steinitz. The new award is intended to encourage quality legislative activity and recognize members of the Israeli Knesset who act in an exemplary manner.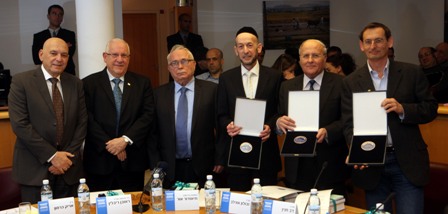 The recipients of the award for outstanding performance in 2011 were MKs Dov Khenin of Hadash, Uri Maklev of Torah Judaism, and Zevulun Orlev of Habayit Hayehudi. MKs Khenin and Maklev were honored as distinguished Knesset members, while MK Orlev was cited as the most distinguished committee chairman for his leadership of the Knesset Committee on the Rights of the Child.
IDI's Outstanding Parliamentarian Award is awarded to parliamentarians with outstanding records in promoting of legislation, contact with the public, budgetary responsibility, frequency of attendance of committee meetings, number of laws passed, submission of parliamentary questions, motions for the agenda, and the number of parliamentary speeches delivered.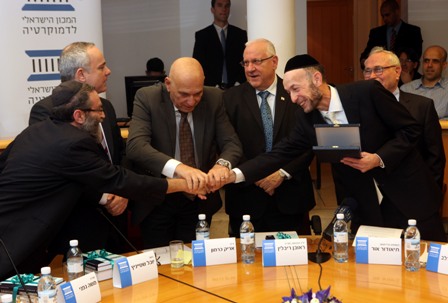 The selection committee included the following members:
Chair: Israeli Supreme Court Vice President (Ret.) Justice Theodore Or
Prof. Menachem Ben-Sasson, President of the Hebrew University of Jerusalem and former MK
Former Minister Rabbi Itshak Levy, IDI's Head of Impact
IDI Senior Fellow Prof. Anita Shapira, Israel Prize laureate in history
Former Minister Mr. Yair Tzaban
Bat-Zion Ben-David (winner of IDI's Young Leadership Forum speech contest in 2011)