IDI Announces Finalists for the 2014 Outstanding Parliamentarian Award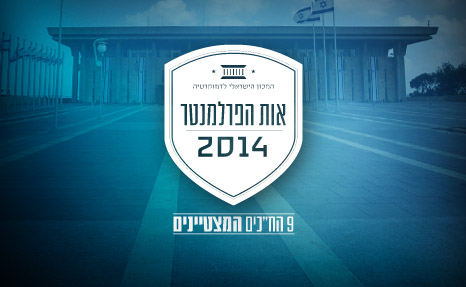 As the Knesset began its winter session, IDI released the names of nine candidates for the 2014 Outstanding Parliamentarian Award, based on their parliamentary performance in the previous session of the Knesset.
The two final recipients of the award—one member of the coalition and one member of the opposition—will be chosen in November by a special committee headed by Justice Theodor Or, the former Deputy President of the Israeli Supreme Court. The award ceremony itself will be held on Tu Bishvat, as part of the celebrations of the day on which the Knesset was established.
The nine finalists are (in alphabetical order):
Eitan Cabel (Labor)
Dov Knenin (Hadash)
Aliza Lavie (Yesh Atid)
Yariv Levin (Likud)
Uri Maklev (UTJ)
Avraham Michaeli (Shas)
Shimon Ohayon (Yisrael Beytenu)
Itzik Shmuly (Labor)
Elazar Stern (Hatnua)
Data collected by an IDI research team has revealed that these nine MKs were the most active MKs in the previous session of the Knesset. Among the criteria considered for eligibility are the number of speeches given in the Knesset, the number of bills passed, participation in Knesset committees and more.
An initiative of IDI, the Outstanding Parliamentarian Award has been awarded since 2010 to Members of the Knesset who have exceptional parliamentary records and are exemplary public representatives. In 2013, the honor was awarded to MK Amram Mitzna and MK Michal Rozin. In 2012, the honor was awarded to MKs Orly Levy-Abekasis and Nitzan Horowitz, and in 2011, the honor was awarded to MKs Uri Maklev, Dov Khenin, and Zevulun Orlev. (It may be noted that MKs Maklev and Khenin are finalists for the 2014 award again.)
Members of the award committee include Justice Theodor Or, Former UN Ambassador Prof. Gabriela Shalev, Former Minister Itzhak Levy, Former MK Issam Makhoul, Former MK Menahem Ben-Sasson, and Former MK Prof. Menahem Ben-Sasson. New members who joined the committee this year are former MKs Michael Eitan and Haim Oron.