Op-ed
Between Shamir and Ben-Gurion
Benjamin Netanyahu Takes His Place as the Prime Minister with the Second Longest Term
On November 10, 2012, Prime Minister Benjamin Netanyahu became the Israeli prime minister who has served the second longest cumulative term. IDI researcher Dr. Ofer Kenig explores Netanyahu's ranking between David Ben-Gurion, who is in first place, and Yitzhak Shamir, who is in third.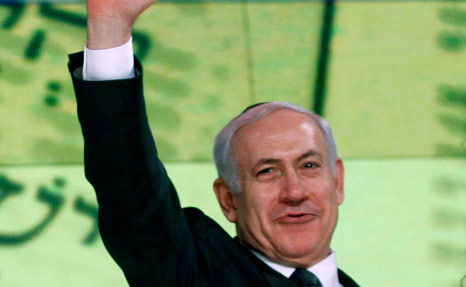 In the midst of the electoral campaign for the 19th Knesset, Prime Minister Benjamin Netanyahu has reached an impressive landmark in his career. On Saturday, November 10, 2012, Netanyahu overtook Yitzhak Shamir and became the Israeli prime minister who has served the second longest cumulative term. As of that date, combining Netanyahu's first term (1996–1999) with his current term (which began in 2009) yielded 2,433 days in office—a little over six and a half years.
Only Prime Minister David Ben-Gurion served longer. His two terms combined yielded a total of 4,575 days—approximately 12.5 years. At the other end of the spectrum, one can find Moshe Sharett and Ehud Barak, each of whom served as prime minister for less than two years (see table).
Israeli Prime Ministers by Cumulative Term in Office
(Valid as of November 10, 2012)
 Rank
 Prime Minister
Cumulative No.
of Days in Office
Years in Office
1. 
David Ben-Gurion
4,575
1949–1954, 1955–1963
2.
Benjamin Netanyahu
2,433
1996–1999, 2009–?
3.
Yitzhak Shamir
2,432
1983–1984, 1986–1992
4.
Yitzhak Rabin
2,322
1974–1977, 1992–1995
5.
Menachem Begin
2,303
1977–1983
6.
Levi Eshkol
2,072
1963–1969
7.
Golda Meir
1,904
1969–1974
8.
Ariel Sharon
1,864
2001–2006
9.
Ehud Olmert
1,062
2006–2009
10.
Shimon Peres
976
1984–1986, 1995–1996
11.
Moshe Sharett
646 
1954–1955
12.
Ehud Barak
610
1999–2001
In order to pass Ben-Gurion and become the prime minister with the longest cumulative term, Netanyahu will have to remain in office until September 23, 2018. During the course of his next term, should he remain prime minister, he will also be able to pass Levi Eshkol, Ariel Sharon, Yitzhak Shamir, and David Ben-Gurion in terms of the duration of a continuous term.

Netanyahu's "achievement" largely reflects the stability that characterized the 18th Knesset  and the 32nd government of the State of Israel. This was the most stable government in several decades, and saw very few changes of personnel and changes in the coalition. Other than Ehud Barak's break away from the Labor Party and the passing episode of Kadima's entry into the government, Netanyahu's government had no dramatic upheavals.

This landmark, in which Netanyahu takes his place between Shamir and Ben-Gurion in terms of length of time in office, is a good opportunity to assess Netanyahu's place among Israel's great leaders. Is he more of a Ben-Gurion-type of leader or does his leadership style more closely resemble that of Shamir? While there cannot be a definitive answer to this question, this article will attempt to position Netanyahu relative to the other two prime ministers based on three measures of leadership style: the leader as a politician, the leader as a statesperson, and the leader as a unifying or dividing figure.


The Leader as a Politician – From the political perspective, deciding whether Netanyahu is closer to Shamir or Ben-Gurion is difficult. On the one hand, Netanyahu has a greater command of the language of politics than the other two prime ministers. He has superior communication skills and he has almost indisputable authority within his party. Admittedly, Shamir (who was a less charismatic leader,) was able to sustain his position as leader of the Likud for almost a decade, a difficult challenge given the large shoes he inherited from Menachem Begin. Admittedly, Shamir also had one or two political stunts in his arsenal, but his standing and authority within the Likud do not compare to those of Netanyahu. Ben-Gurion was also a master of inner-party maneuvers, but not even he achieved the almost-complete control of his party's institutions that Netanyahu has. Despite this, Netanyahu's reliance on the whims of the public and his exaggerated dependency on public opinion polls reveal a more vulnerable and weaker politician. Even Netanyahu's political maneuvers—the attempt to split Kadima, his meddling in Ehud Barak's break away from Labor, the rescheduling of the Likud primaries, the fiasco of canceling the dissolution of the Knesset in the middle of the night, and the short flirtation with Shaul Mofaz—can be understood as actions of a small petty politician, not a great leader.
The Leader as a Statesman – From the point of view of foreign policy, it may be argued that Netanyahu's leadership more closely resembles that of Shamir than the Ben-Gurion model. Shamir was the ultimate preserver of the status quo, steered clear of diplomatic initiatives, and avoided military adventures. Depending on one's perspective, he was either a cautious and discrete leader (according to his supporters) or a timid leader devoid of vision (according to his detractors). In this respect, Netanyahu resembles Shamir more than he resembles Ben-Gurion. In the last four years, the peace process has been in its deepest freeze in 20 years. Even the nadir in the relationship between Israel and the United States that has characterized Netanyahu's term is reminiscent of the end of Shamir's term. Either way, Netanyahu is fundamentally different from Ben-Gurion, who was a leader with revolutionary passion who did not shy away from courageous decisions. Some people would say, however, albeit cautiously, that this assessment will be completely reversed if Netanyahu launches an attack on Iran.
The Leader as a Unifying or Divisive Figure – In terms of whether he is a unifying figure, is Netanyahu more like Shamir or Ben-Gurion? In truth, none of these three leaders is considered to be a particularly unifying figure, certainly not as much as Levi Eshkol or as Ariel Sharon during part of his term. Perhaps it is not fair to judge the Prime Minister of Israel based on this criteria, since the deep differences and polarization in Israeli society make it extremely difficult for political leaders to gain cross-party support.
Beyond the above, however, there are two aspects in which Netanyahu elicits more antagonism than either Shamir and Ben-Gurion.  First, he is seen as a person who enjoys the good life, in stark contrast to the modesty associated with Ben-Gurion and Shamir. Secondly, he is perceived—whether deservedly or not—as unreliable, as he has been caught zigzagging numerous times, and is similarly seen as a difficult a boss; his high rate of staff turnover is cited as proof of that. From these two perspectives, Shamir and Ben-Gurion, despite their enormous differences, have much more in common: they both radiated reliability, which sometimes bordered on intransigence, and were surrounded by devoted assistants for years.

In conclusion, it is difficult to determine whether Netanyahu is more similar to David Ben-Gurion or to Yitzhak Shamir as a leader. As befits his new position—as the politician who has the second longest accumulated term as Prime Minister—he has developed an original leadership style of his own. 
---
Dr. Ofer Kenig is an IDI researcher who heads the Political Parties Research Team of IDI's Forum for Political Reform in Israel.