Article
The Knesset at Age 69: Still Struggling for the Public's Trust

Most of the public – 68% – do not think members of Knesset work hard and do their job, a poll by the Israel Democracy Institute found ahead of the Knesset's 69th birthday on Tuesday. 
The poll, conducted by the IDI's Guttman Center for Public Opinion and Policy Research, also found that 80% of Israelis think politicians care more about their own interests than those of the public, with 65% saying politicians are disconnected from the public's problems and needs, and 64% saying the government does not deal well with the public's primary issues. In addition, 78% of Israelis think they cannot influence government policy.
Among Jewish Israelis, 30% said they trust the government, 27% trust the Knesset and 15% trust political parties.
Among Arab Israelis, less than a quarter (22.5%) said they trust the government, 19% trust the Knesset and 16% trust political parties.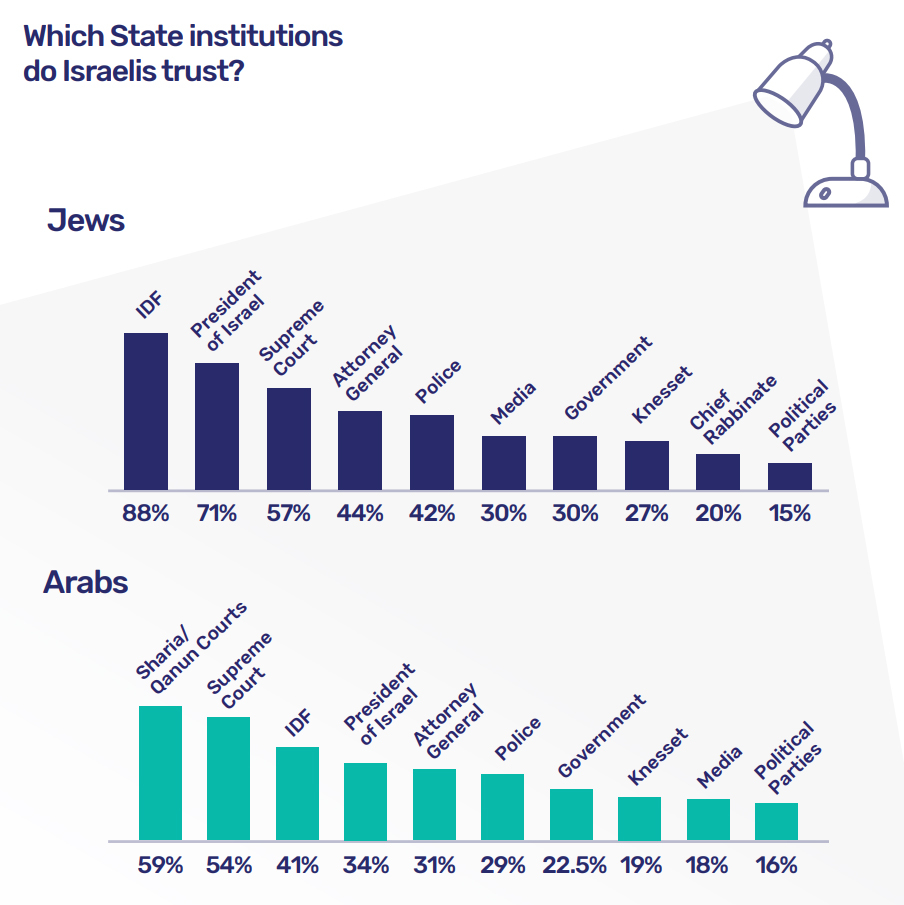 Close to half of Jewish Israelis (47.5%) say there is no political party in Israel that really represents them, while two-thirds of Israeli Arabs (66%) say the same. Over half (52%) of Israeli Arabs agree with the statement, "It does not matter who you vote for; it doesn't change the situation," while a third (32%) of Israeli Jews agree.
The poll was conducted among 1,531 Israelis in May 2017.
IDI researcher Dr. Ofer Kenig compiled a report on an issue that could help solve the problem: legislators' professionalism.
In examining the backgrounds of MKs, he found they represent Israel's varied society to some extent.
"MK is not a profession like all others," Kenig wrote. "It doesn't have permanence; it has almost no minimum threshold, and prior experience is not necessary."
In addition, he posited, "MKs are not just 120 citizens who share a workplace. Rather, they are a group of people who are elected by the public, and we could expect that they'll represent Israeli society and come from a variety of professional backgrounds."
Kenig's report found that public service is the most popular professional background.
More than half (65) MKs fall under this category such as former Arad mayor Kulanu MK Tali Ploskov. Other categories included roles as heads of NGOs such as the National Union of Israel Students, like Social Equality Minister Gila Gamliel and Zionist Union's Itzik Shmuli.
Other career paths include 13 members of the media, like former talk-show host Yesh Atid chairman Yair Lapid, five academics, five in security, and 12 in the private-business sector, like Zionist Union MK Omer Bar Lev, who was a hi-tech entrepreneur.
ALTHOUGH ONLY five MKs had law careers before entering the Knesset – including Zionist Union MK Revital Swid, an acclaimed criminal defense attorney – 27 MKs went to law school.
This is a change from the days in which senior military officers were eager to enter politics, an enthusiasm that might have been tempered by the law requiring a three year cooling-off period between a military and a political career.
Only nine current MKs had a career in defense, whether in the IDF, Shin Bet (Israel Security Agency) or other security bodies.
After former defense minister Moshe Ya'alon resigned in 2016, it became the first time since 1959 that the Knesset did not have any former IDF chiefs of staff, the IDI found.

Of the members of the 20th Knesset, 45 are freshman lawmakers, and 30 are serving a second term. The numbers of long-term members go down from there. Thus, we see that few MKs have a lot of parliamentary experience.
Only three MKs have served for nearly 30 years: UTJ's Moshe Gafni, Likud's Tzachi Hanegbi and Amir Peretz of Zionist Union, all of whom entered the Knesset in 1988 and had short breaks from the legislature.
Kenig analyzed the age at which lawmakers were first elected to the Knesset, pointing out that "older people, presumably, had a previous career, often in non-political areas like security, media, academia and non-profit organizations. However, people who were elected at a young age did not have a significant non-political career."
Exactly half of the current MKs were first voted into the Knesset when they were under the age of 45, including Prime Minister Benjamin Netanyahu, who was 39 when he became a lawmaker.
Only Zionist Union MK Stav Shaffir and Gamliel were under age 30 when they were voted in, and three MKs were over 65 when elected: Kulanu's Eli Alalouf, and Yesh Atid's Yaakov Peri and Yael German.
MK is not a profession like all others, it doesn't have permanence; it has almost no minimum threshold, and prior experience is not necessary. Dr. Ofer Kenig
The IDI report also pointed to what's known in Israeli political slang as "princes" and "princesses" – people who came from political families.
There are nine current MKs who had a parent in the Knesset, including Bennie Begin, son of former prime minister Menachem Begin, Orly Levy-Abecassis and Jackie Levy, whose father is former foreign minister David Levy, Tzipi Livni, daughter of former MK Eitan Livni, Hanegbi, son of former legislator Geula Cohen, and Oren Hazan, son of ex-lawmaker Yechiel Hazan.
Kenig concluded from his study that MKs come from a variety of backgrounds and that local government's reputation of not being relevant is mistaken.
"Social action, student political activity and media are also diving boards into the national political arena," he wrote. "Careers in security are less dominant than in the past."
"The lack of a clear career path for MKs and the fact that... a variety of people from different areas reach it, in a way show that the Knesset does its job of representation," Kenig stated.
The article was first published in the Jerusalem Post