Op-ed
A Moment of Reckoning for the Education System
Israel is not adequately preparing its younger generation to be responsible citizens and must work now to improve its civics education curriculum.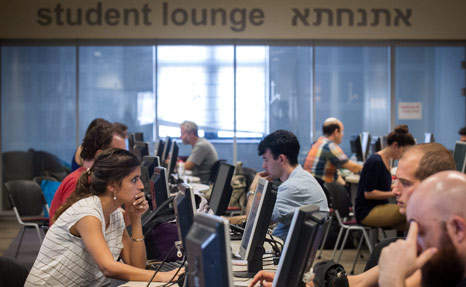 High-school students who are scheduled to take their matriculation (Bagrut) exams in civics this year, have no idea about issues such as the importance of having a functioning parliament during the coronavirus pandemic, of the subjugation of powers, of the monitoring of citizens, and of the protection of privacy.
This is a year of big events: We are witnessing events on a giant scale and of enormous significance. They include the challenge of a global pandemic that lays bare the greatest fears of all of us; and sweeping socioeconomic changes, that challenge widely held economic ideas relating to the free market, the public sector, and people's economic security. In the midst of all this, Israel is also experiencing a constitutional crisis that threatens the very foundations of its democratic government and its values. While legal experts are delving into the precise meaning of the law and of court rulings, and discussing the limits of the rules of the game in a democratic state, the country's politicians are busy representing their own interests and those of their constituents with regard to state institutions. What a shame that the source of information and interpretation of these highly unusual events to the country's youth – marooned to their homes for the past two weeks and expected to remain there for at least another month- is mainly the media and social media platforms. 
The way the democratic crisis is being handled is related to the way in which Israel's citizens understand the nature of democracy and of functioning democratic institutions, and to their appreciation for the importance of commitment to democratic values. It is also linked to the ability of each and every citizen to filter information and to identify manipulations and propaganda, and to their ability to raise questions about statements and claims being made and opinions being voiced. These abilities are not the natural birthright of anyone born in a democratic state; rather, they are acquired, both from life experience and from education and socialization processes that take place, first and foremost in the education system. While the education system declares that instilling values is an integral part of the learning process at school, it does not do enough to ensure that this actually takes place. Social and value-based education in Israel's schools tends to emphasize national identity and those particularistic (Zionist and Jewish) values that are linked to it. This is certainly an important part of civics education, but without dealing with democracy in its substantive sense, Israel's future citizens are liable to find themselves living in a country that is a bit less democratic.
Since publication of the Kremnitzer Commission report, whose recommendations were adopted by the Ministry of Education in 1996, this issue has been repeatedly discussed in various forums, but the Commission's clear recommendations to advance education for democratic citizenship among students of all ages have not been put into effect, and instead have been either ignored or has had lip service paid to them. In recent years, the need for education for democratic citizenship has become even more striking. Public discourse has become violent, racist, and inflammatory. Politicians have made the very word "democracy" into a derogatory term, a term associated with just one side of the political spectrum, while social media has been flooded with fake news and with populist trends. The ability to fully understand this situation and to formulate opinions that are not engineered by algorithms must be fostered at home and in schools.
In these days of distance learning, during a social and economic crisis of such immense proportions, the education system has one clear and simple task: Be relevant!
The system must be relevant to understanding the impact of economic deficits; of the starvation of the health system; and of state financial aid to hundreds of thousands of newly unemployed citizens (as of today). These are being experienced by the students' own parents; they deserve to understand what their parents are likely to face in the near future. But the education system must also be relevant in providing a clear and uncompromising explanation of Israel's constitutional crisis—of last week's severe and unprecedented clash between the Speaker of the Knesset and the Supreme Court, and of the implications of having a bloated government of 30 or more ministers, especially in the current situation. And once we get past the coronavirus crisis, the education system should be expected to create a plan requiring civics for as a required core part of the curriculum for all age groups. The educational leadership must understand that the democratic foundations on which we all rely are not a political whim of one particular side of the political spectrum, but rather an essential basis for the continued existence of the State of Israel as a Jewish and democratic state. It is their job to convey this critically important message to the country's next generation of citizens.
The article was published in the Times of Israel.