The Eli Hurvitz Conference on Economy and Society 2013
The Hilton Queen of Sheba Hotel, Eilat
Participation is by invitation only.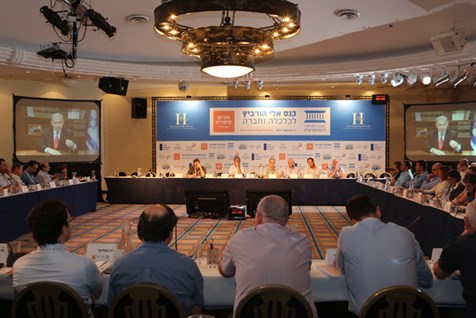 On November 6–7, 2013, IDI convened the second Eli Hurvitz Conference on Economy and Society. Formerly known as the Caesarea Economic Policy Planning Forum, the conference fosters open discussion between senior government decision-makers and leading figures in academia, the non-profit sector, and the business world. This event was broadcast live on the IDI website with simultaneous English translation of the plenary sessions.
This conference is made possible by the generosity of


The Dalia and Eli Hurvitz Foundation.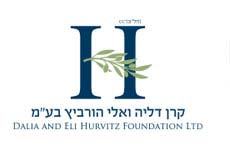 In cooperation with:
The Eli Hurvitz Conference on Economy and Society (formerly the Caesarea Economic Policy Planning Forum), which convened in 2013 for the 21st time, has established a unique tradition of professional, responsible, in-depth, and impartial discussion of the core issues in Israeli economic life. The annual conference is the culmination of comprehensive work conducted over a period of months by a federation of the leading research institutes in Israel. This work includes meetings of heterogeneous teams of experts, sessions with decision makers, intensive research, and the formulation of conclusions and recommendations that are distributed to policy makers and conference participants prior to the conference.
The conference brought together government ministers, public officials, senior bank executives, the top echelon of the Ministry of Finance and the Health Ministry, ministers and Knesset members, members of academia, chairs of public committees, leading figures in the business sector (chairs and CEOs of corporations, conglomerates, and associations), journalists, and guests from abroad, who attended  plenary sessions, workshops, formal meetings, and informal meetings and rolled up their sleeves to make an impact on the economic and social fortitude of the State of Israel.
Three main principles guided the work of the working groups prior to the conference and the planning of the conference itself.  The first and most important was to strengthen the impact of the output of the conference on decision makers in Israel by having the research teams closely study the selected issues and submit reports designed to benefit decision makers in their daily work. The second principle was a decision to examine each of the core issues studied—education, health, innovation, civil service, and employment and productivity—over a period of five years, with the aim of generating output that reflects comprehensive and long-term thinking. The third principle is the goal to innovate, since the uniqueness of the working groups is their ability to mobilize professional and experienced forces and make recommendations that are innovative from the perspective of decision makers. The conference itself offered an additional opportunity to emphasize and reinforce these three principles through plenary sessions and workshops in which decision makers of various echelons themselves participated.
The 2013 conference concentrated on five subjects:
Toward a New Paradigm in Israeli Education: The working group, headed by Prof. Dan Inbar and the Van Leer Jerusalem Institute, focused on the teacher workforce and addressed two subjects:


The policy of teacher training, professional development, and the processes of certification and work relations in an era of profound societal changes.
The management of the teacher workforce in the education system and the definition of the roles, authorities, and responsibilities involved in managing teaching personnel.

Inequality – It's Bad for Our Health: The working group, headed by Prof. Orly Manor and the National Institute for Health Policy Research (NIHP) studied the national costs attributable to the failure to narrow the ongoing inequalities in health. The working group was able to quantify the costs stemming from the ongoing health disparities, which affect numerous national systems and not only the health system. It proposed ideas that would lead to a reduction in these inequalities, with an emphasis on models that would be economically sustainable from a national perspective.
When the Start Up Nation Matures: Innovative environments are characterized by decentralized knowledge and multiple sources that put innovation processes into practice. The working group, led by Dr. Leonid Bakman and the Israel Innovation Institute, focused on the steps needed to transform the State of Israel into a state that fosters a systematic and planned culture of innovation, as opposed to spontaneous innovation based mainly on the talents of outstanding individuals. The team also addressed the need to institutionalize cross-sector activity in order to sustain the Israeli innovation engine and continue to develop it.
Charting a New Course for Israel's Civil Service: The working group focused on the steps required to strengthen the governance of the civil service and on the mechanisms for organizing the management of work relations in the service. Two sub-groups worked in this team:


A team led by Mr. Ilan Levin studied flexibility in work relations and management, and focused on work relations in the civil service
A team led by Dr. Gayil Talshir and Mr. Ron Tzur in collaboration with the Federmann School of Public Policy and Government at the Hebrew University of Jerusalem examined integration and inclusion in the civil service and discussed the possibility of a new paradigm of governance that is different than that of a welfare state or free market state.

From Encouraging Employment to Boosting Productivity: The working group, headed by Prof. Michel Strawczynski, discussed productivity and the desired policy for boosting growth. The report that was prepared for the conference indicates that while the current policy for encouraging productivity – "from welfare to employment" – has indeed increased employment, some of the new employees are characterized by particularly low productivity. Therefore, its recommendation is to transition to a policy of "from employment to productivity." The team focused on the demographic aspect and primarily on boosting the productivity of weak populations in the society.
It may be noted that Education Minister Rabbi Shay Piron and Minister of Intelligence Dr. Yuval Steinitz were not able to attend the conference.
Note: For workshop participants please see the Workshop Supplement in the Full Program.
Presidium:
Mr. Yarom Ariav, Conference Director
Dr. Arye Carmon, President, The Israel Democracy Institute
Government:
Prime Minister Benjamin Netanyahu (via video)
Minister Yael German, Health Minister 
Minister Yair Lapid, Finance Minister
Minister Naftali Bennett, Economy Minister
Minister Silvan Shalom, Minister of Energy and Water
Special Guests:
Dr. Karnit Flug, Governor-Designate of the Bank of Israel (via video)
Prof. Moran Cerf, Professor of Neuroscience, Department of Neurosurgery, NYU and UCLA; Kellogg School of Management
Education
Prof. Dan Inbar, Senior Research Fellow, The Van Leer Jerusalem Institute
Dr. Varda Shiffer, Research Fellow, Education and Privatization and Regulation, The Van Leer Jerusalem Institute
Dr. Amnon Karmon, Research Fellow, Education, The Van Leer Jerusalem Institute
Prof. Dirk Van Damme, Head of the Innovation and Measuring Progress (IMEP) Division, Directorate for Education and Skills, OECD
Mr. Eli Hurvitz, Executive Director, The Trump Foundation
Ms. Shirin Natour-Hafi, Principal, ORT Arab Science and Technology High School, Lod
Mr. Eran Cohen, Director of Education, Budget Division, Ministry of Finance
MK Amram Mitzna, Chair, Knesset Education, Culture and Sports Committee
Health
Minister Yael German, Minister of Health
Prof. Orly Manor, Professor of Biostatistics, Braun School of Public Health and Community Medicine, The Hebrew University-Hadassah
Mr. Moshe Kahlon, Chair, Center for Reform & Leadership, Netanya Academic College
Ms. Camila Vammalle, Senior Economist/Policy Analyst, Budgeting and Public Expenditures Division, OECD
Mr. Chaim Oron, Chair, Lobby for Public Health
Dr. Eyran Halpern, M.D., M.P.A., CEO, Rabin Medical Center; Chair, Hospital Directors Organization
Dr. Bishara Bisharat, M.D., M.P.H., Head of Nazareth Hospital EMMS; Chair, Arab Health Association
Prof. Shlomo Mor-Yosef, Director General, National Insurance Institute of Israel
Innovation
Minister Yair Lapid, Minister of Finance 
Minister Naftali Bennett, Minister of Economy
Dr. Leonid Bakman, Founder and Executive Director, Israel Innovation Institute
Mr. Ron Huldai, Mayor of Tel Aviv-Yafo
Mr. Amit Lang, Director General, Ministry of Economy
Ms. Galit Hemi, Editor, Calcalist
Mr. Eli Defes, Director General, Clalit Health Services
Mr. Imad Younis, President, Alpha Omega
Prof. Eugene Kandel, Head of the National Economic Council, Prime Minister's Office
Mr. David (Dadi) Perlmutter, Executive Vice-President, Intel Corporation
Public Service
MK Mickey Levy, Deputy Minister of Finance
MK Nissan Slomiansky, Chair, Knesset Finance Committee
MK Dr. Ahmad Tibi, Deputy Speaker of the Knesset
Mr. Ilan Levin, Economic Consultant; Head of Labor and Human Resources Division, Manufacturers Association of Israel; Former Head of Wages, Ministry of Finance
Dr. Gayil Talshir, Head, Top Civil Servants MA Program in Public Policy, School of Public Policy, Department of Political Science, The Hebrew University of Jerusalem
Mr. Ron Tzur, Chief of Staff, Reform Implementation Project, Israel Civil Service
Mr. Ehud Praver, Deputy Director General for Governance and Social Affairs, Prime Minister'sOffice
Mr. Ori Yogev, Director General, Israel Government Companies Authority
Mr. Moshe Dayan, Adv., Civil Service Commissioner
Mr. Kobi Amsalem-Shalev, Adv., Director General, Wages and Labor Agreements, Ministry of Finance
Mr. Ronnie Bar-On, Adv., Former Minister of Finance
Macroeconomics
MK Prof. Avishay Braverman, Chair, Knesset Economic Affairs Committee
Prof. Michel Strawczynski, Department of Economics and Public Policy, The Hebrew University of Jerusalem; Head of Economics and Society Program, The Van Leer Jerusalem Institute
Mr. Sever Plocker, Chief Economic Editor, Yedioth Ahronoth
Mr. Zvi Oren, President, Manufacturers Association of Israel; Chairman, The Federation of Israeli Economic Organizations
Prof. Nathan Sussman, Director, Research Department, Bank of Israel
Ms. Michal Tzuk, Senior Deputy Director General, and Director of Employment Regulation, Ministry of Economy
Mr. Moshe Bar Siman Tov, Deputy Director of Budgets, Ministry of Finance
Mr. Imad Telhami, Founder and Chairman, Babcom Centers
Google Big Tent
Mr. Doron Avni, Senior Policy & Government Relations Manager, Middle East, Sub-Saharan Africa, Israel & Turkey, Google
Mr. Noam Bardin, Chief Wazer, Google
Mr. Meir Brand, Managing Director, Google Israel, South Africa & Greece
Mr. Vint Cerf, Chief Internet Evangelist and VP, Google
Mr. Amit Lang, Director General, Ministry of Economy
Ms. Carmela Avner, Government Chief Information Officer
Mr. Yossi Katribas,Deputy Director General, Prime Minister's Office
Mr. Amir Teig, Editor, Technology, Communications and Media, TheMarker
Ms. Dana Weiss, Channel 2 News
Highlights of the 2013 conference included:
An address by Minister of the Economy Naftali Bennett
An address by Minister of Energy and Water Silvan Shalom
An address by Mr. Ron Huldai, Mayor of Tel Aviv-Yafo
A Google Big Tent event that featured Doron Avni, Google's Senior Policy and Government Relations Manager for the Middle East; Meir Brand, head of Google Israel; Vint Cerf, Chief Internet Evangelist and Vice President of Google; Noam Bardin, Google's Chief Wazer, and a panel of experts who discussed how the State of Israel can boost technological innovation and how principles of innovation from the world of the Internet can be adopted for the good of Israeli society. This event was sponsored in partnership with Google.
International figures who addressed the plenum in English included:
Prof. Dirk Van Damme, Head of the Innovation and Measuring Progress (IMEP) Division of the OECD's Directorate for Education and Skills
Ms. Camila Vammalle, Senior Economist and Policy Analyst of the OECD's Budgeting and Public Expenditures Division.
In addition, Prof. Moran Cerf, a Professor of Neuroscience from the Department of Neurosurgery at NYU and UCLA and the Kellogg School of Management presented a lunchtime lecture.
Prime Minister Netanyahu's Video Address
The Governor of the Bank of Israel's Video Address
Health Minister Yael German's Address to the Plenary
The Finance Minister's Address
From the Plenary
All plenary sessions of the 2013 Eli Hurvitz Conference on Economy and Society are available for viewing on demand with simultaneous English audio translation.