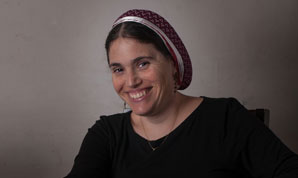 Dr. Rivka Neriya Ben-Shahar
Dr. Rivka Neriya Ben-Shahar, Researcher, Ultra-Orthodox in Israel Program
Dr. Rivka Neriya Ben-Shahar is a senior lecturer at Sapir Academic College in Sderot, Israel, teaching courses in research methods, communication, religion, and gender. Her doctorate at the Hebrew University of Jerusalem was entitled "Ultra-Orthodox Women and Mass Media in Israel – Exposure Patterns and Reading Strategies."

She was a Fulbright post-doctoral fellow and a Scholar in Residence at the Hadassah-Brandeis Institute at Brandeis University, and worked on a study of women's cultural-religious praxes.

Dr. Neriya Ben-Shahar researches the mass media from the perspectives of religion and gender. Her most recent research project addresses the tension between religious values and new technologies among Old Order Amish women and Jewish ultra-Orthodox women.

photo by: Danny Levy