Press Release
New IDI Research for the Institute's "Haredi Women's Leadership:"
The More Ultra-Orthodox Women Become Career-Oriented, the More they Focus on Preserving the Haredi Way of Life
Over the past two years, Israel Democracy Institute (IDI) researcher Dr. Lee Cahaner compared data of 40 ultra-Orthodox women enrolled in Movilot, the Haredi Women's Leadership project with additional 90 Haredi women who applied for the program and other working Haredi women.
Cahaner found that roughly half of the women who were accepted into the leadership program are married to Kollel (yeshiva) students, who learn full-time and do not work. This percentage is much higher than that of the general ultra-Orthodox community and also higher than those who applied for the program but were not accepted.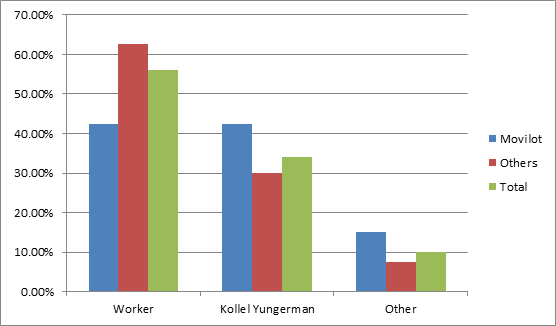 The study also found that the career-oriented women who earn higher salaries, typical of those who participate in the Haredi Women's Leadership program, are all employees (i.e. work for others). In greater proportion to the rest of the Haredi community, these women work in mixed-gender environment (2/3 of Movilot participants). The women (59%) report that working in an all-Haredi environment is of minimal importance to them. Nevertheless, among half of the women it is important to them to work in a single-gender environment. Most of the women (77%) reported that they see behaviors and other content that is unfit for a Haredi lifestyle in their place of work. However, only a minority (25%) report that this makes it difficult for them to perform their work duties. More than half of the women (54%) said they do take part in company social activities.
The Work Environment and the Religious Identity of the Employer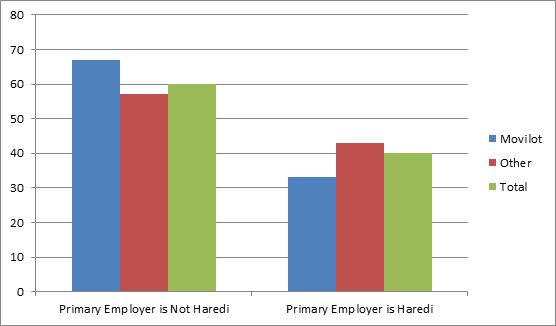 Importance of Working in a Haredi Environment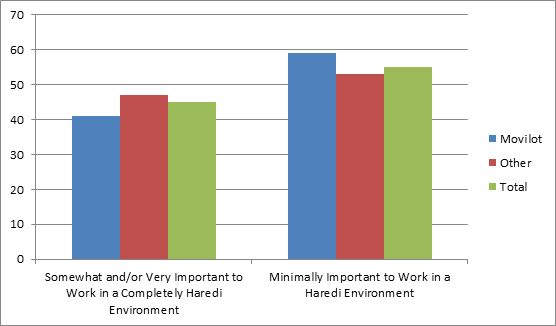 Another surprising statistic is connected to career advancement. The study found that the women in the leadership program were much less interested in adding work hours or studies at the expense of their family in order to advance in their place of work.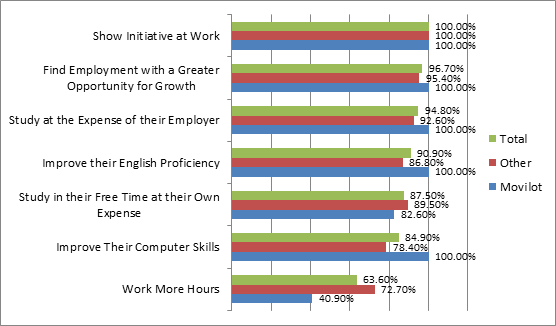 These above statistics connect to the fact that the women in the program think that women should focus more of their responsibility and time on raising children and that they are less willing to enter the workforce at the expense of the Torah world.
(How much do you agree with the statement on a scale of 1 to 10)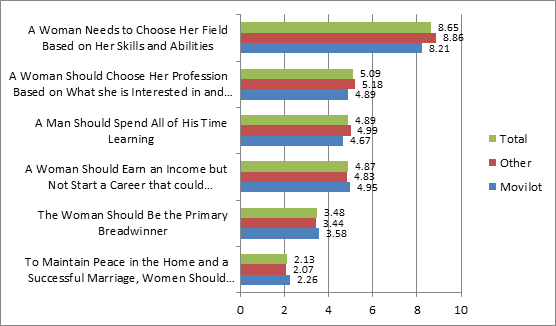 Finally, the study found a surprising fact. One would expect that as Haredi women take on greater roles outside the home and more senior positions, that they would become more lax about their responsibilities at home. In fact, the study found the opposite: As Haredi women achieve greater success in the work place, despite being exposed to and even thriving in secular Israeli society, they place even greater emphasis on raising their children, imbibing them with Haredi values and taking care of their homes.
Link to IDI Masterplan for ultra-Orthodox Employment>>