Press Release
Despite reported tensions, discrimination and intolerance, Israelis say their personal situations are good
Israeli Democracy Index 2015 also looks at governmental challenges and issues of freedom of expression
The Israeli Democracy Institute (IDI) released the Israeli Democracy Index 2015 on Nov. 10, 2015. This year's public opinion poll, a project conducted by the Guttman Center for Surveys, found that Israeli's are more content than the news reports might make them appear.
The Israeli Democracy Institute (IDI) released the Israeli Democracy Index 2015 on Nov. 10, 2015 at a ceremony at the residence of Israeli President, Reuven Rivlin. This year's public opinion poll, a project conducted by the Guttman Center for Surveys, found that Israeli's are more content than the news reports might make them appear.
Some 74 percent of Israelis describe their personal situation as "good" or "very good." Further, 19.8% classify it as "so-so." By nationality: 76.5% of Jewish Israelis categorize their situation as positive, as do 65% of Arab respondents.
Further, the index found the majority of Israelis (84.3% of Jews and 83.4% of Arabs) would not emigrate from Israel if they could obtain citizenship in the United States or another Western Country.
However, there were reported tensions, issues of rising discrimination and anti-Semitism, and challenges with the Israeli government.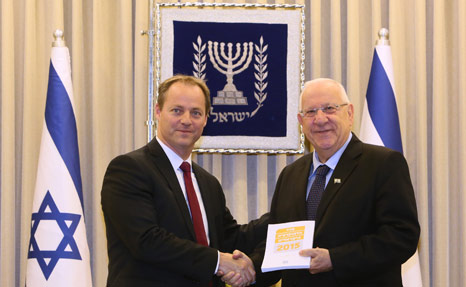 IDI President Yohanan Plesner presents the Israeli Democracy Index 2015 to Israeli President Reuven Rivlin on Nov. 10. 
"The results of the Israeli Democracy Index 2015 highlight the continued deterioration of the public stake in government institutions, which displays a worrisome pattern of a growing disconnects between the establishment and the public," said IDI President Yohanan Plesner. "Additionally, they reveal the deepening divide between Israel's Jewish and Arab citizens. Apparently, support for the value of equality is limited in Israel and only declarative. Too many Jewish Israeli citizens prefer to prevent the integration of Arab citizens in areas where they could play a role in helping to make decisions for the nation. It would be ideal if the statistics that we share in this index yield action by political and civil leaders in order to bring about a change in the direction of Arab-Jewish relations and to advance a discourse with the goal of implementing a collective civil vision."
"What we found from the research is that Israel appears more democratic than it actually is," said Professor Tamar Hermann, academic director of IDI's Guttman Center for Surveys.
After receiving the results, President Rivlin said, "The strength of the people of Israel, the existence of Israeli democracy, is not inherent. It is on us to forever strengthen it, to continue to strive for true democracy in Israel."
He continued, "Also in these difficult days, it is forbidden for us to forget that the war at home will only pass when we struggle with how to live together, continue to dialogue, and to defend the arc of trust and ideas."
More results:
Government Performance
The majority of the Israeli public is very critical of the functioning of the government. A majority of Israelis think that governmental corruption is common in Israel (total sample: average score of 2.4, where 1 = very corrupt and 5 = not at all corrupt). Likewise, most respondents (54.4% of the total sample) also feel that Knesset members do not work hard and are not doing their job as well as they should. A high percentage of those surveyed (77.7% of the total sample) feel unable to truly influence government policy, and there is a pronounced lack of trust in key political institutions: only 19.1% of the total sample trusts the political parties "very much" or "quite a lot," with corresponding figures of 35.4% for the Knesset, and 36.2% for the government.
In contrast, the IDF and the President of Israel enjoy a high level of trust, but only among Jewish respondents. The Supreme Court (62.2%) and Israel's health funds (70.6%) are also trusted to a great extent by the Jewish public. Among Arab respondents, the government and public bodies that enjoy the highest rate of trust are the health funds (82.2%), the National Insurance Institute (65.3%), and the Supreme Court (63%).
Tolerance
The willingness to have someone as a neighbor is an excellent indicator of tolerance toward "others," which is a basic democratic value. We asked respondents if it would bother them to live next to eight groups of others: secular Jews, ultra-Orthodox Jews, an Arab family, a Jewish family, people with mental health disorders, an Ethiopian-Israeli family, foreign workers, a homosexual couple, and people with intellectual/developmental disabilities.
The findings point to considerable differences between Jews and Arabs. Jewish respondents' most unwelcome neighbors: foreign workers (48.5%), followed by an Arab family (36.1%). Arab respondents' most unwelcome neighbors: ultra-Orthodox Jews (42.6%), followed by a homosexual couple (40.4%). Only 11.4% of Arab Israelis say they would be bothered by living next to a Jewish family.
Discrimination & Equality
The majority (59.3%) of Jewish and Arab Israelis believe that Arabs are discriminated against; only about one-third of respondents disagree. There were differences between respondents who see themselves on different sides of the political spectrum; only 44% of self-proclaimed right-wing respondents see Arabs as discriminated against, 62.6% of center and 80% of self-proclaimed left-wing respondents say Arabs are discriminated against.
While about half of the Jewish public oppose allocating greater funding to Jewish localities than to Arab localities, only a small percentage of Jewish respondents are prepared to involve Arabs in crucial state decisions (73.6% of Jewish respondents would require a Jewish majority for decisions regarding peace and national security, while 53.6% would require a Jewish majority for matters of governance, society, and the economy). In addition, 56.6% of Jews are opposed to including Arab parties and ministers in the government.
Tensions in Israel
Israelis recognize they live in a society wrought with tensions. For instance, when asked to rate the level of tension between 1) religious and secular, 2) right and left, 3) rich and poor, 4) and Jews and Arabs, the level of tension was most often characterized as moderate to high.
The perceived level of tension between right and left increased substantially this year, as did tensions between Arabs and Jews (though a smaller share rated it as high this year than in 2012, when the greatest share to date of those rating it high was recorded). Tension between religious and secular Jews has declined each year between 2012 and 2015, from 59.7% to 47.5%, respectively.
When respondents were asked their opinions on the troubling statement: "Most Arab citizens of Israel have not reconciled themselves to the state's existence, and support its destruction," among Jewish and Arab respondents alike, a majority disagree with this assertion. Nonetheless, the size of this majority differs greatly between the two groups. The Jewish respondents are split, with a majority (52.3%) who do not agree with the statement, but a very large minority (42.3%) who do. Among the Arab respondents, over two-thirds (69.7%) disagree, while roughly one-quarter (24.3%) agree.
Additionally:
55.7% of Jewish respondents believe that it is not possible to identify as a Palestinian and be a loyal citizen of Israel.
42.3% think that Israel's Arab citizens support the destruction of the state.
39% think Arab citizens are a security threat.
Freedom of Expression
While the majority of the Israeli public support freedom of expression – and when respondents were asked whether Israelis should be legally prohibited from expressing harsh criticism of the state in public, 70.4% of the total sample expressed opposition to this notion – when asked whether they agree that in order to protect national security, the state should be permitted to monitor what citizens post on the Internet, 59.1% the Jewish public supported such intrusions on individual freedom of expression.

Religion & State
When Jewish Israelis were asked, "Israel is defined as both a Jewish and a democratic state, which part of the definition is more important to you personally?" respondents were divided almost equally between those for whom the Jewish component takes precedent (36.6%) and those who see the democratic aspect as more important (35.3%). Some 26.7% of respondents stated (on their own initiative) that both elements are equally important to them. A comparison of responses to this question by year shows a pattern similar to that seen last year – a narrowing of the gap between those who favor "Jewish" and those who favor "democratic," at the expense of the share of those who favor the two component equally. In 2010, 48.1% of Jewish respondents favored "Judaism" and "democracy" equally.

Since 2003, an extensive survey has been conducted annually. Each survey presents an estimate of the quality of Israeli democracy for that year. Data for the Israeli Democracy Index 2015 were collected during April and May 2015. The study population was a representative national sample of 1,019 adults aged 18 and over. The maximum sampling error for sample of this size is +/- 3.2%.