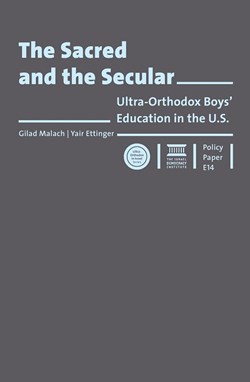 The Sacred and the Secular: Ultra-Orthodox Boys' Education in the U.S.
Policy Paper E14
Written By: Dr. Gilad Malach, Yair Ettinger
Publication Date:
Cover Type: Softcover | Online
Number Of Pages:

137

Pages
Center: The Ultra-Orthodox in Israel
Price: 45 NIS
The ultra-Orthodox (Haredi) community in the United States—more than
650,000-strong, is the second-largest in the world, after Israel. However,
little is known little about this group. One of the prominent characteristics
of American Haredim is their positive attitude towards higher education
and gainful employment—very different from that among their Israeli
counterparts. The present study focuses on the education of ultra-Orthodox
boys in the United States, which consists of several private systems that have
doubled their enrollment over the past 20 years.
read more