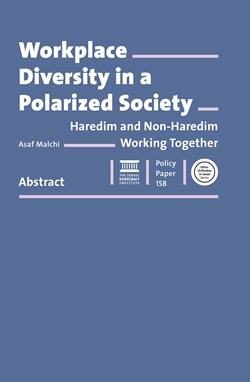 Workplace Diversity in a Polarized Society: Haredim and Non-Haredim Working Together
Policy Paper 158
ABSTRACT
Written By: Dr. Asaf Malchi
Publication Date:
Cover Type: Softcover | Online
Number Of Pages:

10

Pages
Center: The Ultra-Orthodox in Israel
This pioneering study provides significant insights as to the complex relations between ultra-Orthodox (Haredi) and other ("secular") employees in "mixed" workplaces, from the perspectives of secular employers and employees alike.
What do employers think about hiring ultra-Orthodox workers?
How do employees behave and relate to their ultra-Orthodox coworkers?
Must special adaptations be made in order to succeed in integrating ultra-Orthodox workers into mixed workplaces?
How does the exposure to ultra-Orthodox workers influence the views and attitudes of the secular majority towards this minority community?
Today, these questions are more relevant than ever, in light of the pressing need for boosting employment rates among Haredim, and the growing alienation between the ultra-Orthodox community and the general public, in the wake of the community's behavior during the COVID-19 crisis.
The study provides concrete recommendation's for enhancing the process of hiring of Haredi employees, adopting more diverse employment practices, and successful integration at the workplace in a variety of occupations and work environments.
read more