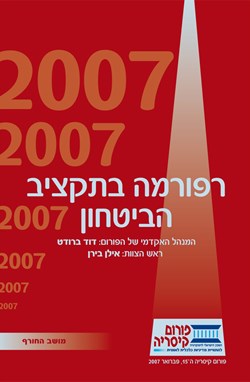 Reforming the Defense Budget
The 15th Caesarea Economic Policy Planning Forum, February 2007
Written By:

David Brodet,

Ilan Biran

Publication Date:
Cover Type: Softcover | Hebrew
Number Of Pages:

56

Pages
Center: Eli Hurvitz Conference on Economy and Society
Price: 45 NIS
A proposal for reforming the defense budget by establishing a multi-year budgetary framework as a platform for organizational change, and creating a mechanism that would enable the political decision-makers to set proper priorities and determine security issues.
read more
The defense budget accounts for a vast proportion of the national budget. Is it being managed correctly by the Finance Ministry, economists, and leaders of the defense establishment? Are the billions of sheqels that are invested in procurement, salaries, training, and military equipment allocated in the best possible manner? Do political decision-makers have the tools necessary for making intelligent decisions?
The research team that explored these questions focused on two issues: the need for a multi-year budget as the basis for an organizational change that would allow for a long-range view when confronting security threats, and the creation of an apparatus and methodology that will allow political decision-makers to set appropriate priorities and make decisions about security issues. The practical implementation of the proposed solutions could improve Israel's ability to confront the challenges of the future.