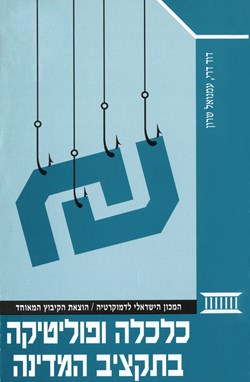 Bureaucracy and Democracy in Budgetary Reform
Written By:

David Dery,

Emanuel Sharon

Publication Date:
Cover Type: Softcover | Hebrew
Number Of Pages:

150

Pages
Price: 50 NIS
A discussion of the necessary synthesis of politics and economics in the budgetary process, and the tensions that arise from taking into account the needs of residents and broader issues of state and security. 
read more
When building its annual budget, every country faces two basic problems. The first is the inability to fully address all needs and to satisfy the desires of every person. The second is dealing with the diversity of needs, desires, and priorities of the country's citizens. Because the national budget, which is designed for everybody, cannot actually satisfy everybody, and because every person and organization has its own desires, with no consensus about how to divide the resources among competing values and uses, each country needs a procedure for making a collective decision regarding the allocation of national resources. In a democratic regime, the legitimate method for deciding among competing values is the political process. Such decisions, however, require not only solid ideological foundations and familiarity with the public's needs and desires, but also must consider the anticipated future behavior of economic variables.
This necessary integration of politics and economics in the budget process and its significance for setting public policy in Israel is the topic of the present volume. At its core is a critical examination of the budget process in Israel, a survey of budget processes and reforms in various countries during the past decade, and a list of concrete recommendations for modifying the budget process in Israel.