Op-ed
Using Administrative Detention to Combat Organized Crime
In response to an escalation of gang violence, Israeli authorities announced that administrative detention, an exceptional method used in the war on terror, will be used in the war on organized crime. Aviad Ben Yehuda discusses the problematic nature of this extension.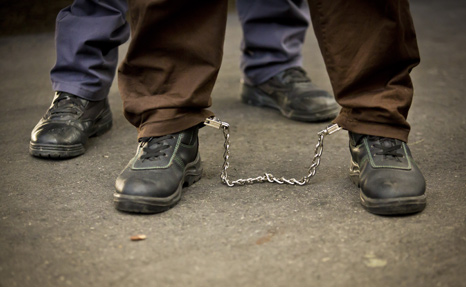 "Criminal organizations are terrorist organizations in every respect." This declaration has been issued by Police Inspector General Yohanan Danino several times since the gang murders in Ashkelon, and with greater intensity since the attempted assassination of a prosecutor from the Tel Aviv District Attorney's Office. The Minister of Public Security, Yitzhak Aharonovitz, even promised that the police would use all the means at their disposal, including "administrative detention and preventative detention" of members of criminal organizations. Minister Aharonovitz's avowed intention, and his interesting equation of the crime organizations in Ashkelon with Hezbollah, are not surprising in light of the "War on Terror" Bill that was approved by the Ministerial Committee on Legislation five months ago (June 9, 2013). That bill includes broad definitions of the concepts "terrorist organization" and "terrorist act," with the intention of securing and expanding the State's authority to deprive people of their freedom, without trial and for an extended period of time.
According to the Emergency Powers (Detention) Law 5739–1979, Israeli authorities have the authority to issue an administrative detention order as long as "a state of emergency" is in force. It is highly doubtful whether Israel's "state of emergency," which has been extended continuously ever since the establishment of the State with regard to all matters related to the battle against terrorism and threats to state security, should be applied to cases of criminal activity, which can be eradicated using traditional law enforcement tools. The recent incidents in Ashkelon and Tel Aviv are not on a par with the challenges of war, the waves of terrorism, the natural disasters, or the epidemics faced by the State of Israel in a manner that would justify divergence from standard methods of law enforcement. The use of administrative detention in a way that is not in line with the purpose of the legislation violates the requirement of a rational connection between means and ends.
In their war against terrorist organizations, Israeli security forces make extensive use of confidential evidence in administrative detention proceedings. Minister Aharonovitz's comparison of crime organizations to terrorist organizations suggests that law enforcement agencies consider all means to be appropriate for dealing with crime, including denying suspects a chance to prove they are not dangerous, if the State claims they pose a threat to national security or public safety. In such cases, even judicial review does not provide effective monitoring to keep the State from abusing its power. Israel's extensive experience with the administrative detention of Palestinians shows that judges never challenge the veracity of evidence against people suspected of membership in terrorist organizations. Aharonovitz's proposal is thus tantamount to giving the State carte blanche to deprive Israeli citizens of their freedom, while also infringing their right to due process.
It would seem, therefore, that the true motive behind Aharonovitz's statement lies in the hope that administrative detention of members of criminal organizations will provide investigators with an easy way out. This method would enable them to establish the evidentiary basis against detainees by means of a drawn-out investigation, rather than amassing evidence in ways that are less damaging and do not deny freedom. It would weaken police investigators' incentive to utilize the full array of methods at their disposal. Instead, they would tend a priori to give preference to prolonged and demeaning detention, casting aside the standard rules of evidence that apply in criminal proceedings.
The intention of Minister Aharonovitz and Inspector General Danino to extend the use of administrative detention to the war on organized crime may include several unfortunate ramifications. First, the increased use of unjustified arrests will detract from the goal of criminal law, which aims to deny freedom only to those who pose a sufficient personal threat to justify this step. Second, it is likely to cause broad and grave damage to the rights of individuals to due process, and to negatively impact their ability to defend themselves against charges against them. More important, it is not appropriate for Israel's administrative authorities to exploit the fact that Israel's state of emergency has been extended for a prolonged period of time, and to use emergency powers to fight crime on the grounds that recent events "endanger national security or public safety." The use of administrative detention should be reserved exclusively for those emergency situations in which it is justified.
Aviad Ben Yehuda is on the research staff of IDI's Terrorism and Democracy project.
In the short video below, IDI Vice President of Research Prof. Mordechai Kremnitzer discusses the possibility of extending the use of administrative detention to cases of organized crime. (Hebrew with English subtitles.)