Live

Open to the public

Hebrew
From Charity to Rights: On the Status of People with Disabilities
The Israel Democracy Institute
4 Pinsker Street, Jerusalem
Some 800,000 people with disabilities live in Israel today and are still seen as "other" in Israeli society.
The time has come for a paradigm shift. Rabbis, legal experts, and economists believe that charity and pity alone cannot change our society; Israel must recognize its moral and legal obligation to people with disabilities and ensure that their rights are granted.
On Monday March 23, 2015 IDI and the Ruderman Family Foundation hosted a conference as part of their efforts to put the discourse of rights at the center of public debate and ensure that Israeli society relates to people with disabilities as it would to anyone else: as people with rights.
This Hebrew event was broadcast live on the IDI website and can be viewed on Youtube or below. Real-time transcription was provided in Hebrew.
This event was conducted in partnership with
The Ruderman Family Foundation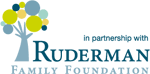 3:40–4:00 pm |Arrival
4:00–4:15 pm |Opening Remarks
Mrs. Shira Ruderman, Israel Director of the Ruderman Family Foundation
Rabbi Dr. Benny Lau, Israel Democracy Institute; Rabbi of the Ramban Synagogue, Jerusalem
Prof. Yedidia Stern, Vice President of Research, The Israel Democracy Institute
4:15 pm–5:15 pm |Session One: A Legal Perspective
Moderator: MK Karin Elharrar, Yesh Atid
Participants:
Justice Dalia Dorner, Supreme Court Justice (Emerita), President of the Israel Press Council
Justice Eliahu Mazza, Deputy Chief Justice, Supreme Court (Emeritus)
Dr. Sagit Mor, Faculty of Law, University of Haifa
5:15 pm–6:15 pm |Session Two: A Jewish Perspective
Opening Remarks: Rabbi David Lau, Chief Rabbi of Israel
Moderator: Rabbi Dr. Benny Lau, Israel Democracy Institute

Participants:
Rabbi Ehud Bandel, The Masorti Movement in Israel
Rabbi Shmuel Chaim Pappenheim
Rabbi Rafi Feuerstein, President of the Feuerstein Institute; Co-Founder of the Tzohar Rabbinical Organization
Dr. Chana Friedman, Teacher of Jewish Law, Havruta Beit Midrash at the Hebrew University of Jerusalem
6:15–6:30 pm | Break
6:30–7:45 pm | Session Three: A Socio-Economic Perspective
Moderator: Prof. Yedidia Stern
Participants:
Mr. Ahiya Kamara, Commissioner for Equal Rights of Persons with Disabilities, Ministry of Justice
Michal Tzuk, Director of Employment Regulation and Senior Deputy Director General, Ministry of Economy
Prof. Yossi Tamir, Director General, JDC-Israel
Adv. Shoshana Rabinowitz, Federation of Israeli Chamber of Commerce
Prof. Mimi Eisenstadt, Dean of the College of Social Work and Social Welfare, The Institute of Criminology, Law Department, The Hebrew University of Jerusalem
7:45-8:00 pm | Summary and Conclusion

Mrs. Shira Ruderman and Prof. Yedidia Stern