The Outstanding Parliamentarian Award 2014
The Knesset
In the presence of Knesset Speaker Yoel (Yuli) Edelstein
On Tuesday July 21, 2015, the Israel Democracy Institute's Outstanding Parliamentarian Award of 2014 was awarded to MK Eitan Cabel (The Zionist Union) and MK Aliza Lavie (Yesh Atid) for their exemplary parliamentary activity in 2014. The ceremony took place in the office of the Speaker of the Knesset.

The award was presented in the presence of Knesset Speaker MK Yuli Edelstein, IDI President Yohanan Plesner, Opposition Leader MK Isaac Herzog, and MK Yair Lapid, Chairman of Yesh Atid, as well as the members of the selection committee headed by former Deputy President of the Israeli Supreme Court Justice Theodor Or.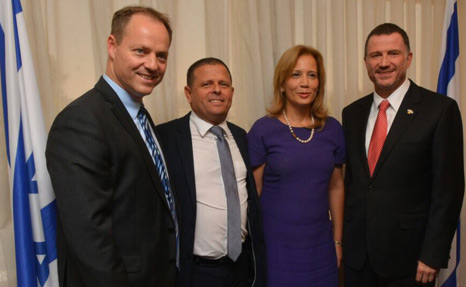 Left to Right: IDI President Yohanan Plesner, MK Eitan Cabel, MK Aliza Lavie, Knesset Speaker Yoel-Yuli Edelstein.
From the Selection Committee's statement on Eitan Cabel: "MK Eitan Cabel worked vigorously and stood out for his work in the Knesset plenary, his legislative activity, and his involvement in Knesset lobbies. Among other things, he promoted legislation in a wide range of areas, such as consumer protection and prevention of cruelty to animals, and he even served as the Chairman of the Labor faction until recently. MK Cable also distinguished himself by his plenary speeches, queries, and use of the Knesset's Research and Information Center."

From the Selection Committee's statement on Aliza Lavie: "From the start of her term as a member of Knesset, MK Lavie worked tirelessly to advance the status of women and to promote gender equality, as the Chair of the Committee on the Status of Women and Gender Equality in the 19th Knesset. She also distinguished herself by the legislation that she advanced, especially in the area of prevention of sexual harassment, her plenary speeches, and her use of the Knesset's Research and Information Center."

An initiative of IDI, the Outstanding Parliamentarian Award has been awarded since 2010 to Members of the Knesset from the coalition and the opposition who have exceptional parliamentary records and are exemplary public representatives. The 2013 award was granted to MK Amram Mitzna and MK Michal Rozin. The 2012 award was granted to MKs Orly Levy-Abekasis and Nitzan Horowitz, and the 2011 award was granted to MKs Uri Maklev, Dov Khenin, and Zevulun Orlev.

MK Cabel and MK Lavie were chosen from among nine finalists who had been shortlisted for the prestigious award based on a variety of measures of their Knesset performance. The two MKs were recognized for their work in the 19th Knesset, but the award ceremony was postponed when early elections were called.