The Fourth Meeting of the Police and Society Forum
The Israel Democracy Institute
4 Pinsker Street, Jerusalem
On Monday April 29, 2013, the senior command staff of the Israel Police, led by Police Commissioner Yohanan Danino, spent a full day at the Israel Democracy Institute, as IDI's Police and Society Forum convened for the fourth time.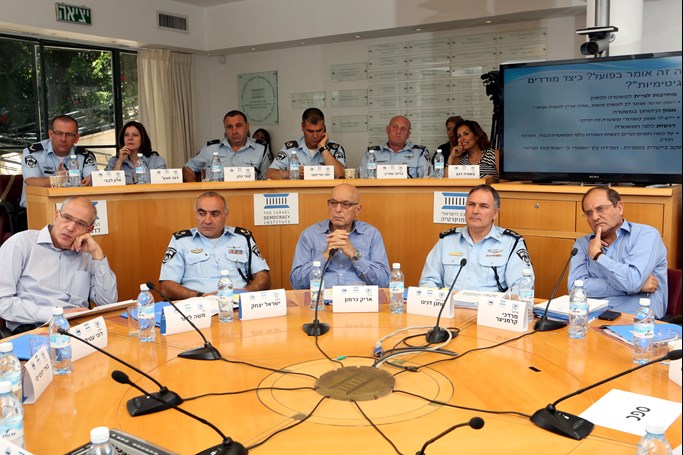 The April 2013 meeting focused on public confidence in the Israel Police. Participants discussed the worldview that places the law-abiding citizen at the center of the organization's focus. Research presented at the conference strengthened the assertion that the law-abiding citizen's confidence in an organization stems primarily from the organization's use of fair and transparent processes, rather than from its business results.  A survey of victims of crime conducted in 21012 revealed that there has been a 15% increase in the number of people who turn to the police. This finding, according to research, attests to an increase in public confidence in the police. This study supported the "turnaround model" that will be guiding the Israel Police in the coming year.
"Public trust is the lifeblood of democracy, especially of a young democracy such as Israel," said Police Commissioner Danino during the meeting, "and if we wish to live democratic lives, we should continue striving to enhance public trust in the police." As he explained, "a high level of confidence attests to a state governed by the rule of law and to a sense of personal security, and contributes to national resilience." For this reason, increasing public confidence in the police is at the core of the turnaround plan that is guiding the police in their work.
According to Commissioner Danino, signs with bold print saying "increasing public confidence in the police" have been hung in many police stations, since this is the ultimate goal of the turnaround plan. He referred to this challenge as "a weighty task," given the reality in which the Israel Police function today.
Established in 2004 as a joint initiative of IDI and then Police Commissioner Shlomo Aharonishky, IDI's Police and Society Forum brings together the senior leadership of the Israel Police, IDI researchers, leading academicians, and public figures to discuss critical issues in the relations between the Israeli police and Israel's multifaceted civil society. Prominent members of the Forum include IDI President Dr. Arye Carmon, IDI Vice President of Research Prof. Mordechai Kremnitzer, State Attorney Moshe Lador, retired judge Saviona Rotlevy, and former Supreme Court Justice Dalia Dorner.