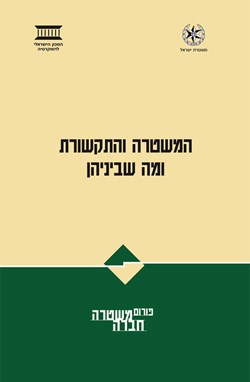 Between the Police and the Press
Civil-Military Relations
Edited By:

Gideon Fishman

Publication Date:
Cover Type: Softcover | Hebrew
Number Of Pages:

87

Pages
Price: 30 NIS
How can Israel build a healthy relationship between the press and the police? This volume presents a summary of an IDI symposium that focused on the complexity of the relationship between the two. 
read more
On Monday, January 17, 2005, IDI's Police and Society Forum held its second conference, with Inspector General Moshe Karadi as Chair. Most of the discussion revolved around how the police should deal with the media, as they are the most important molder of public opinion in the modern age. Naturally, a central object of media coverage is the government—its deeds, actions, finances, and power.
The media are supposed to discuss events in society, to serve as a watchdog, to uncover corruption, and to make government processes more transparent. In recent years, the Israeli media environment has changed—becoming harsher, more competitive, and more commercialized. It is not an enlisted media that views promoting national interests as a supreme value; rather, it is a sector built on unrelenting criticism. Because of the many security-related incidents and problems of public order in Israel, criticism of the conduct of the Israeli Police and how it handles security-related events is a routine topic in the media.
The topic of this session of the Police and Society Forum was the ambivalent relationship between two important agents in a democracy—the police and the media. Among other things, there was a discussion of the problematic relationship between the two. It was agreed that their interests are not "conflicting," but "different." The session also summarized the expectations that the police have of the media and reached operative conclusions that should help the police deal with mass media in the modern age in the complex Israeli reality.