Press Release
Israel Democracy Institute Scholars on the Proposal to Enable Religious Courts to Arbitrate on Civil Matters: 'A Good and Balanced Proposal'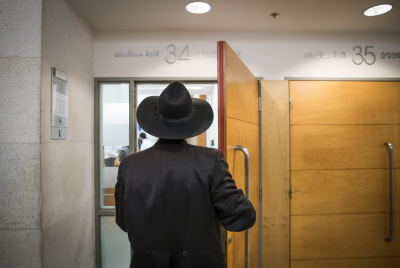 Ahead of today's vote on a bill that would enable religious courts to conduct arbitration with the agreement of both parties, similar to the arbitration that takes place in other frameworks, a policy statement was sent to the Ministerial Committee on Legislation by Israel Democracy Institute's Dr. Benny Porat. The scholar asks the committee to support the legislation, with some reservations.
In the policy statement, Porat emphasizes that the proposed bill does not aim to grant the religious courts the same judicial authority given to the civil courts, and that the bill respects the unilateral authority the civil courts have in deciding conflicts by the rules of the state. The proposal only enables arbitration as conducted by professionals in other settings, with agreement on both sides.
In the paper, Porat writes that the bill could decrease the overload of cases in the civil courts without harming the legal system and its authority.
Nevertheless, Porat writes that there are some challenges with the bill as it currently stands and he recommends they be fixed before it is cast into law. For example, Porat recommends removing a clause that establishes that the rabbinical courts would be allowed to permit the plaintiff to submit his claim for civil proceedings. This permission is not necessary and is not appropriate, as it could harm the stature of the courts and the legal system.
Prof. Yedidia Stern, vice president of research at IDI, said, "In general, we are talking about a solid proposal that does not force anything on anyone, nor does it harm the authority of the Israeli court system. However, the proposal does enable sides that are interested in receiving help from the rabbinical courts as arbitrators for cases that otherwise would have to be solved in civil courts. This would enable Jewish law to be implemented within the legal framework that is known and recognized as arbitration. The proposal will also quash other proposals, presented previously, that are dangerous and aim to give the rabbinical courts authority almost parallel to that of the civil courts on matters regarding civil disputes."
Read the full policy statement (Hebrew).
For more information or interviews: Maayan Hoffman, director of international communications, 050-718-9742 or jaffemaayan@idi.org.il.