Press Release
Ultra-Orthodox Employment Levels Stop Increasing
The percentage of ultra-Orthodox men who work remained stagnant in 2016 for the first time after a consistent upturn over the past several years, according to a new report by the Central Bureau of Statistics.
The percentage of ultra-Orthodox men who work remained at 52% (just one percent over last year's 51%). And the percentage of working haredi women remained at 73%.
Full-time Kollel Students (2012-2016, thousands)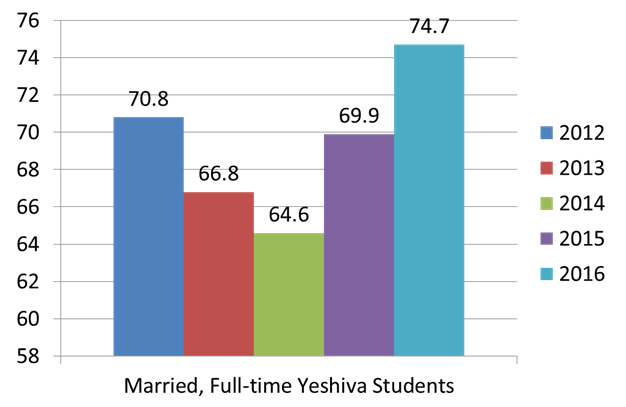 At the same time, there has been a consistent rise in the number of ultra-Orthodox married students learning full-time in the years 2015 to 2016. Over the past two years, there has been a 16% increase in the number of full-time adult learners – double the growth rate of the ultra-Orthodox population.
Employed Haredi Men and Women (2011-2016, Percentage)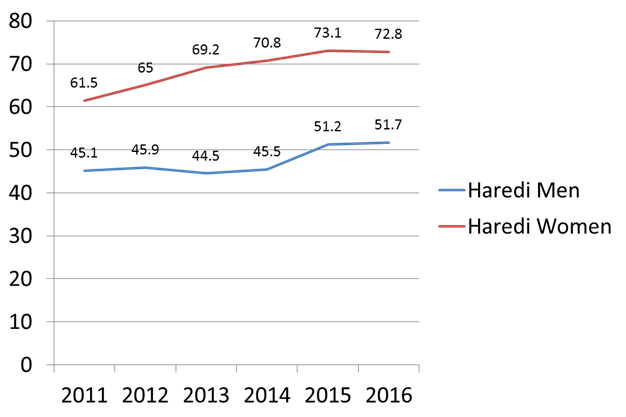 There is apparently a connection between the two phenomena. Doubling state support for full-time kollel Torah students, together with the cancellation of conditions attached to other benefits, such as a former rule that men had to have tried to find a job before their children could be eligible for subsidized daycare, has weakened the incentive to work.
Dr. Gilad Malach, Director of the Ultra-Orthodox in Israel Program at the Israel Democracy Institute, explained that the statistics could be due to the return of the ultra-Orthodox parties to the coalition over the past two years.
"In these years, budgets were doubled for yeshivas and kollels, and benefits that had been previously cut for students whose wives don't work were restored. Similarly, canceling the criterion for male employment in daycare eligibility, have made it less worthwhile to work," Malach said. "It looks like these changes led to a deceleration, and perhaps even interruption of, integration of haredi men into the workforce."
Nevertheless, there is good news! The percentage of poverty in the ultra-Orthodox sector fell in 2015 to 54% (there is still no data for 2016), after a number of years where that percentage hit close to 60%. Possible reasons for this include the improvement of ultra-Orthodox human resources, increased outreach toward the ultra-Orthodox by academia, the raising of the minimum wage and policies of greater support for full-time married Torah students.