Asylum Seekers in Israel: A Snapshot
On the occasion of International Migrants Day and an IDI roundtable on Israeli immigration policy, IDI researcher Adv. Reuven (Ruvi) Ziegler provides an overview of the treatment of African asylum seekers who have crossed into Israel via its southern border.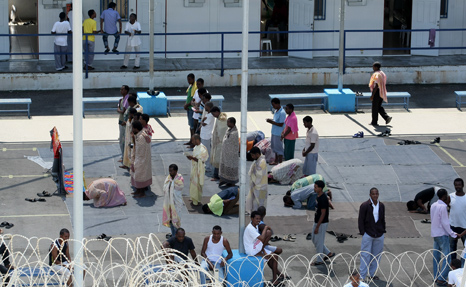 International Migrants Day, which was celebrated on December 18th, is an opportune time to consider one of the main immigration-related dilemmas that Israel presently faces: the treatment of African asylum seekers who have crossed its Southern border from Egypt. Nearly 60,000 asylum seekers reside in Israel, the vast majority of whom originate in Eritrea and Sudan.
In A Matter of Definition: On 'Infiltrators' and 'Asylum Seekers' in Israel,
I discussed the legal and moral difficulties generated by the absence of a sound Israeli asylum policy. While Israel recogises that Eritreans and Sudanese nationals cannot be repatriated to their respective states, it refrains from conducting individual refugee status determination procedures to determine their eligibility for refugee protection under the 1951 Geneva Convention and does not formally accord them subsidiary/temporary protection.
Instead, Eritreans and Sudanese nationals hold 'permit 2(a)(5)', which defines them as 'non-repatriable'. This permit must be renewed every three months; it does not entitle its holder to work legally, although the state announced that it will not enforce this prohibition until further notice, in response to  a petition to the High Court of Justice.See HCJ 6312/10 http://www.acri.org.il/he/?p=2563 (Hebrew) This permit also does not entitle Sudanese and Eritrean asylum-seekers to (non-urgent) medical treatment or welfare benefits, leaving them destitute.
In January 2012, the Knesset (Israel's parliament) enacted an amendment to the Prevention of Infiltration Act, which authorises detention of border-crossers for a three-year period—a period that is significantly longer than in all other democracies—in contravention of the non-penalisation provision of the refugee convention in Article 31. The constitutionally of this amendment is subject to a pending court challenge (HCJ 7146/12).
In October 2012, petitioners who submitted Administrative Appeal 1726-10-12, which challenged the legality of the Interior Ministry's announcement that it plans to detain Sudanese nationals who currently reside in Israel, withdrew their petition after the Ministry of Justice clarified that a decision to that effect has not been taken.See http://www.acri.org.il/he/wp-content/uploads/2012/10/hit-refugees-sudan.pdf (Hebrew) Meanwhile, planning permission has been granted for the construction of the largest non-penal detention centre in the world, intended for future border-crossers; construction has been put on hold.
Despite some (moderately) successful legal battles, such as the one that required the Eilat municipality to admit children of asylum seekers to its public school system, asylum seekers in Israel remain extremely vulnerable due to their ill-defined legal status. Friction ensues in weaker neighborhoods where asylum seekers can afford to rent a flat, and the predicament of disempowered local residents is cynically used to incite against asylum seekers (see, for example, a report by the Hotline for Migrant Workers).
Meanwhile, border-crossing numbers have dramatically declined, not least due to the construction of a physical barrier and the refusal of the Israeli Supreme Court to consider the extent to which the state is legally required not to refoule (return) asylum seekers reaching Israel's borders.  Only 54 asylum seekers crossed the border in OctoberSource: http://piba.gov.il/SpokesmanshipMessagess/Pages/agu2012.aspx (Hebrew) and 40 in November, Source: http://piba.gov.il/SpokesmanshipMessagess/Pages/nov_291112.aspx (Hebrew) according to Israel's Population and Immigration and Borders Authority.
The non-repatriability of Eritreans and Sudanese nationals in the foreseeable future, their vulnerable conditions, and the dramatic decline in numbers of new arrivals emphasise the need to formulate a comprehensive immigration policy. A review of one of the outstanding proposals of such legislation can be found in one of my articles on the IDI Hebrew website. This issue, as well as related issues, was discussed on 24 December, 2012, at an IDI roundtable on Israeli immigration policy and its implications. 
---
Reuven (Ruvi) Ziegler is a researcher conducting research as part of IDI's Constitutional Principles and their Implementation Project. He is a Lecturer in Law at the University of Reading and a D.Phil. (Doctoral) Candidate in Human Rights Law at Lincoln College, University of Oxford.