Article
Integrating the Ultra-Orthodox
Haredi men and women are joining the labor force, but how can Israel continue building on that trend?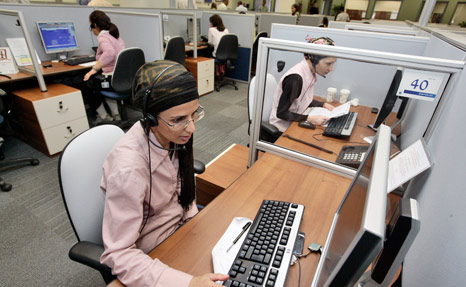 As a teenager in Jerusalem, it was clear to Nachmi (name and some details with­held by request) that she wanted the arc of her adult life to follow a traditional path for an ultra-Orthodox woman: early marriage to a yeshiva student, children soon after and a life that focused on mitzva observance, Jewish holidays and personal and community modesty.
It was also clear to her that she would be the breadwinner in her family, in order to enable her husband to devote his time to Torah study. To prepare herself for this role, she enrolled in school through the Tzofia vocational training program, after graduating from a Bais Yaakov high school, and completed a degree in computer engineering. Today she balances home responsibilities with her work as a software engineer for a large software company, as well as her ultra-Orthodox cultural sensibilities with the social norms and expectations of the secular culture that is prevalent at work.
"I wanted to show that I'm a good wife and a successful woman who's able to do it all," she says about the challenge of balancing the two worlds. "Maybe if I'd started at the software company a year after the wedding, it would have been different. I had just gotten married and every single thing was new, and I wanted to prove myself in all areas... I'm a woman who likes to be at home and take care of the house, and I've only just started my family," says Nachmi, now 22 and a mother of two.
According to Dr. Gilad Malach, head of the research program on the ultra- Orthodox community at the Israel Democracy Institute and author of IDI's Master Plan for Ultra-Orthodox Employment in Israel, Nachmi's story and thousands like hers represent a key change in Israel's fastest-growing sector. Ultra-Orthodox Jews make up 11 percent of Israel's population, a figure that is expected to hit 18% by 2035.
"There are really two lenses that explain the story of haredim in the workplace and in academia today," Malach tells The Jerusalem Report. "On one hand, you've got the ultra-Orthodox world. Despite the best efforts of the rabbis, many young people have advanced smartphones, which means they are on the Internet. At the same time, many of them want to be involved with the State of Israel, they want to serve in the army, they want higher education and, especially, they do not want to be poor.
"At the same time, the ultra-Orthodox leadership not only allowed these processes to happen, but they encouraged them. Adina Bar Shalom founded the Jerusalem Haredi College not against the wishes of her father, Rabbi Ovadia Yosef, but at his behest. Now fast-forward 14 years and look at what happened when Rabbi Shalom Cohen (the new rabbinic head of the Shas party) came out against academic study for women. Two things happened: One, nobody listened to him, and two, the Shas political leadership explained to Cohen that he couldn't say things like that, and he hasn't repeated it," Malach says.
The first point is neatly illustrated by Avigdor Rabinovich, a 25-year-old entrepreneur and scion of a prominent ultra-Orthodox family. Growing up in the southern town of Ofakim, by the time he was 18 Rabinovich knew that although his family connections and his success as a teenage yeshiva student would have opened doors to any of the prominent haredi yeshivot, a life of full-time Torah study was not for him.
Rabinovich did continue attending yeshiva for three years after yeshiva k'tana (ultra-Orthodox parlance for high school), but at the age of 22 he took advantage of the Tal Law, was given an exemption from IDF service and began working in a series of sales and marketing jobs. Eventually seeking more independence, as well as the ability to contribute to a pressing social need, he began to forge connections between his friends who were looking for jobs and employers who needed smart, industrious workers who did not necessarily have strong formal education credentials.
"So many of my friends want to work – as soon as word got out that I was working at Orange (the mobile phone carrier, now known by the name of the parent company, Partner), people began asking me if we had any jobs available, or if I knew of people who were hiring," says Rabinovich, now 25. "But many people feel that government and state-run employment services are not so accessible to haredim, so I opened a Facebook page named Avodot Leharedim (Work for Haredim), and later followed with a WhatsApp group. Together, I've helped some 2,500 people find jobs, and I get seven to nine employers a day posting job opportunities."
Significantly, Rabinovich's journey outside the protective cocoon of the ultra-Orthodox world has not detracted from his level of halachic observance – he still makes his home in one of Israel's "blackest" neighborhoods, prays with a minyan three times a day and maintains a daily schedule of Torah study.
Rabinovich and Nachmi are not alone. Thousands of ultra-Orthodox Israelis have joined the workforce or undertaken academic study in recent years while also remaining strongly committed to haredi values and practice. Increasingly, they populate Israeli workplaces: Morning and afternoon trains between Bet Shemesh and Tel Aviv feature regular prayer services, and there are midday Talmud classes at business centers at the Har Hotzvim and Malha tech parks in Jerusalem, the Azrieli business center in downtown Tel Aviv and elsewhere.
Even more pronounced is the sight of modestly dressed ultra-Orthodox women working in the same workplaces, leaving work early to look after school-age children and prepare dinner for their kollel-student husbands. For many, the demands of home life mean accepting part-time jobs, but many more make up the time to their employers with late-night emails and reading, completed after their duties as wives and mothers have been discharged.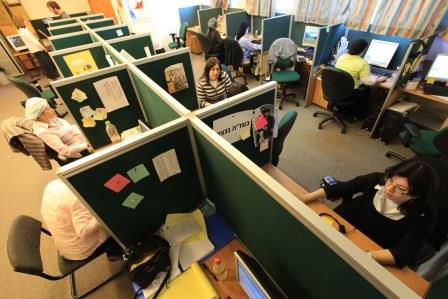 To outsiders, it seems like an impossible balancing act, but one that can be explained by the individuals' strong emotional connections to haredi Judaism and by the inner satisfaction they glean from ultra-Orthodox ideas about holiness and serving God. Every individual interviewed for this article used similar adjectives to describe their lives inside their home communities: warm, fulfilling, spiritual, holy and passionate.
Ultra-Orthodox rabbis, community spokesmen and academic observers agree that the phenomenon of haredim integrating into some aspects of general Israeli society began to take root in the late 1990s, when some rabbis and the IDF agreed to establish Netzah Yehuda, a battalion in the Nahal Brigade for young men who chose not to continue their yeshiva studies after high school but still wanted to retain an ultra- Orthodox lifestyle.
Around the same time, leaders such as Yosef understood that the ultra- Orthodox world was beginning to groan under the weight of its own success – the community had grown from about 30,000 when Israel achieved independence (out of a total population of just 806,000) to more than 750,000 (out of 8.2 million) today. With such phenomenal growth, the burden of extreme poverty was proving too much for many observant families to bear.
Furthermore, economists had started to warn that the state could not support the ultra-Orthodox "society of students" model forever, and they strongly advised secular politicians to engage haredi leaders in order to open the community up to general education, with an eye on eventually bringing the ultra-Orthodox into the workforce. Eventually, in 2003, then-finance minister Benjamin Netanyahu announced deep cuts to welfare programs, indicating to ultra- Orthodox leaders that the government would no longer serve as an accessory to eventual economic disaster.
To facilitate the entry of haredim into academia and the workforce, the state and private industry have invested hundreds of millions of shekels in recent years to create ultra-Orthodox frameworks to support individuals who are looking for academic education and employment while also remaining loyal to their cultural mores. Ultra-Orthodox cities like Modi'in Illit, Betar Illit and Bet Shemesh now host hi-tech hubs where companies like Matrix offer gender-segregated facilities (as well as babysitting services). Nearly 80% of ultra-Orthodox women are now employed, up from less than half a decade ago and a percentage that is now on par with secular Jewish Israeli women.
The results of these efforts are noticeable. In the political sphere, the ultra-Orthodox UTJ and Shas parties insisted that their coalition agreements with Netanyahu following last year's election include a government commitment to "advance ultra-Orthodox employment." In the private sector, initiatives such as Temech, a co-working space for haredi omen located near the Jerusalem Central Bus Station, offers office and cubicle space, an extensive library of business literature, business coaching for women entering the workforce, as well as seminars on topics including understanding your customers, business finances, marketing and sales and advertising.
At the state level, the IDF has built on the success of Netzah Yehuda and expanded the range of combat units commanded only by male officers, with mehadrin kashrut standards and Torah classes. Other army programs are designed to welcome married ultra- Orthodox men who want to serve and who want to use their service time to build up vocational skills in areas such as computers or cyber technology. As a result, the number of haredim serving in the military has spiked, from just a few hundred at the turn of the millennium to more than 5,000 today.
In academia, too, the Education Ministry has invested NIS 180 million since 2011 to attract ultra-Orthodox students to academia. In addition to colleges such as the Jerusalem Haredi College, Michlelet Ono and Machon Lev, the Homesh program has built ultra-Orthodox centers near the campuses of all Israeli universities to provide a smooth entry for haredi students into university life. That investment will nearly triple over the next five years, to NIS 500m., with a program goal of providing social, religious and academic support for haredim who integrate into the general university population.
As a result of the private and public investment, ultra-Orthodox employment has risen from 36% to 50% for men since 2003, and 51% to 74% for women. Two-thirds of the haredim currently studying for academic degrees are women, and researchers estimate that a majority of haredim use the Internet. As in other traditional communities around the world, the combination of secular education and Internet access has led to a drop in ultra-Orthodox birthrates, from 7.5 children per woman in 2003 to 6.9 in 2014 (non-haredi Israeli women bear an average of 2 to 3 children).
"There is no question that ultra-Orthodox society is changing," says Dr. Lee Cahaner, a researcher at IDI and head of the multidisciplinary studies department at Oranim College of Education. "Employment and job searching in Israel mean exposure to Internet, and that means exposure to a wide variety of information and opinions, including Orthodox ones that are not necessarily conservative. As a result, there has been a sharp drop in rabbinic authority, and other social changes.
"Of course, the community at heart is still very conservative. For instance, just 30% of ultra-Orthodox woman have driver's licenses, and 82% of women above the age of 20 are married, compared to 59% of non-haredi women. But there is no doubt that secular education and interaction with the outside world are having an effect on the society in many ways," Cahaner tells The Report.
Moving forward, Cahaner and Malach agree that Israel must continue building on the above-noted trends to expand ultra-Orthodox employment, while at the same time working to close the wage gap between haredim and the general population. In 2013-14 gross monthly salaries for ultra-Orthodox men in Israel were NIS 8,950, as compared to NIS 12,450 for non-haredim. For women, the discrepancy is even more pronounced: NIS 5,860 per month for female haredim, as compared to NIS 8,260 for non-ultra-Orthodox women.
In order to accomplish that goal, the IDI master plan makes a series of recommendations aimed at improving the scope and quality of ultra-Orthodox employment over the coming decade. These include:
Instituting secular education and vocational training for ultra-Orthodox boys and encouraging haredi students to pursue computer science and engineering degrees
Improving vocational counseling and training
Increasing demand and accessibility for ultra-Orthodox employees in high-wage sectors
Ultimately, thousands of haredim – especially young people – recognize the fact that the ultra-Orthodox world is changing. They admit that balancing the cultural demands of the modern workplace with the social demands of their home neighborhoods can be a challenge but one they are increasingly willing to meet.
"Today's ultra-Orthodox young people are fully up to date on current events – world events, music, etc. And people are asking questions about who we are, what 'haredim' means, who they want to be as individuals, stuff like that," says Rabinovich.
"But at the same time, I think we received a good, solid education about things like good values, the value of helping others. In all, I think Torah is a good outlook on the world. Employment and exposure to the outside world are certainly a change for the community, but at the end of the day I think it is something we can meet successfully," he says.
View the Jerusalem Report special section, "Israel's Democratic Challenge," featuring IDI>>