Op-ed
Joining Together to Remember Yitzhak Rabin
On the 19th anniversary of the Rabin assassination, Rabbi Dr. Benjamin (Benny) Lau, head of IDI's Human Rights and Judaism in Action project, looks at how the youth of Israel have chosen to commemorate this event and shares a vision of hope.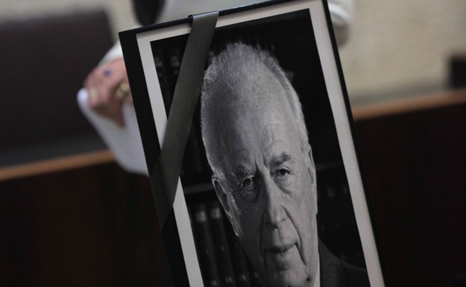 Published in: Israel National News (Hebrew) 
---
Every 19 years, the Hebrew calendar and the Gregorian calendar coincide. And so this year, 19 years after the assassination of Prime Minister Yitzhak Rabin, November 4th and the 11th of Heshvan align, and we find ourselves commemorating the annual Memorial Day for Yitzhak Rabin on the same day on both calendars.
For many years, a memorial rally for Yitzhak Rabin has been held in Rabin Square in Tel Aviv on a date close to November 4th. This annual event brings together members of the camp that identifies with Yitzhak Rabin the man, and his inner circle. The homogenous atmosphere at this gathering unites those in attendance and tends to exclude anyone who does not see eye to eye with the views of what has become known as "Rabin's legacy." The organizers have focused not on democratic values and the welfare of the country, but on a deep desire for a warm and comforting gathering of a group of people who are in pain and who miss one of their founding fathers.
In the last two years, an interesting coalition of youth movements has begun to stage an alternative rally with a completely different message. This rally, which is held in proximity to the day of the assassination on the Hebrew calendar, is aimed at creating a Zionist soundtrack that calls on people from all parts of Israeli society to join together and fortify themselves against the voices and forces that are threatening the welfare of the state.
The extended family of Israel joins hands together because of our shared destiny. In times of emergency, we unite and cling to the walls of our collective home. The fate of the Jews serves as a kind of anxiety-based adhesive that reminds us that the Jewish people have no other alternative. The Hebrew date of Yitzhak Rabin's assassination is also the day that my grandfather, Rabbi Moshe Chaim Lau, was murdered in Treblinka 72 years ago. Four trains left his city, Piotrkow, transporting 20,000 Jews who came from all walks of Jewish society. The cattle cars carried them all, without distinction, and deposited them at the entrance to the gas chambers.
Woe is to us if we make do with this type of anxiety-based adhesive. Our shared destiny is not sustainable as the backbone of our identity. It may hold us together in times of crisis, but if it is the source of our identity, when life returns to normal, we will find ourselves in a society that has lost its way.
The memorial rally for Yitzhak Rabin organized by Israel's youth movements does not focus on the man himself, but on defining a common objective of the State of Israel—an objective that is not based on anxiety, but rather is positive; an objective that motivates the younger generation to assume responsibility and rise to the task, rather than to issue weak and hollow cries.
This rally seeks to set clear boundaries for the legitimate battle of opinions that is raging in Israel. Members of youth groups such as Bnei Akiva and HaNoar HaOved, religious and secular, right and left, will stand side by side in Rabin Square. These young people do not agree on many things, but they will unite in calling on all Israelis to observe the rules of life in our extended family. They will join together in saying no to violence, no to racism, and no to demonization.
There are still members of the closed and homogeneous camp who refuse to hold hands with members of other groups. They continue to squabble in an outdated manner that sees one side as always right and the other as always wrong. The members of the younger generation who will assemble in Rabin Square this coming Saturday night, however, have chosen a different path. They don't quarrel over their differences; rather, they are channeling their energies into a joint effort to share the burden of responsibility for the State of Israel and Israeli society.
Our dreams are different and sometimes pull us in opposite directions. The voices that would divide us permeate and poison our hearts. The youth movement rally is a statement that we come together not only because of a common fate, but also—mainly—as a step in a journey towards our shared goal of repairing society. We go out to the square together to raise this banner and to continue the long journey of a nation returning to its homeland, not as victims but as pioneers. 
---
Rabbi Dr. Benjamin (Benny) Lau is the head of IDI's Human Rights and Judaism in Action project and is the rabbi of the Ramban Synagogue in Jerusalem. 
---
This article was originally published in Hebrew on the Arutz Sheva website on November 4, 2014.