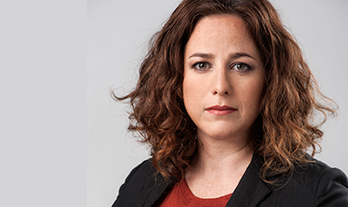 Adv. Alona Vinograd
Adv. Alona Vinograd is the Director of the Center for Democratic Values and Institutions. 
 Vinograd served as the Director General of the Movement for Freedom of Information between the years 2011-2015, in which she raised the issue of freedom of information to the top of the public agenda.
Vinograd led legal battles to increase public transparency and battled against corruption in various issues including education, health, transportation and more. She has more than a decade of experience in the social sector, and in 2015 she was awarded the Rappaport Prize for Women Generating Change in Israeli Society.
Vinograd holds a BA in Law from the Interdisciplinary Center in Herzliya, in the special track for outstanding students, and holds a BA in English Literature from Tel Aviv University.