Press Release
Egalitarian Prayer at the Western Wall
A step in providing 'freedom of religion and from religion' in the State of Israel
IDI Vice President Yedidia Stern responds to government's January 31, 2016 decision to allow egalitarian prayer at some parts of the Western Wall.
In response to the government's approval yesterday of mixed prayer at some parts of the Western Wall, Israel Democracy Institute Vice President Yedidia Stern says, "This is a very serious victory for a battle that has been fought for more than 25 years."
Stern, himself an Orthodox Jew, notes that Israel today is the only democracy in which Jews do not enjoy full freedom of religion. He says the government's decision, made through negotiations with Women of the Wall, leaders of the Reform and Masorati/Conservative movements, the Jewish Federations of North America and the Jewish Agency, is a forward step in providing "freedom of religion and from religion" to the people of Israel, and he believes it advances equality and improves access for all to Jewish holy sites. "From now on all Jews may feel 'at home' when praying at the Western Wall," Stern says.
"The new agreement will enable Jews in Israel and around the world to choose between two options, which is good not only for those whose efforts made this possible, but for everyone, who until now were held captive by the sole method available for prayer at the Western Wall: Orthodox," Stern continues.
Stern is available for interviews with the foreign press.
Bio>>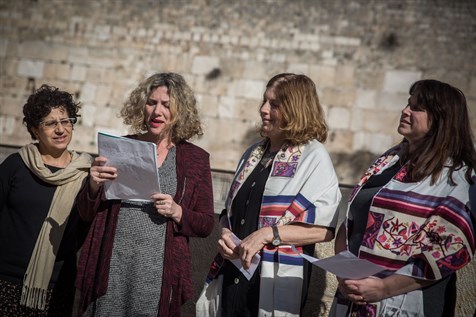 Women of the Wall hold a press conference to announce the group's response to the Knesset vote on the group's rights of prayer at the Western Wall.
Photo by Hadas Parush/Flash90