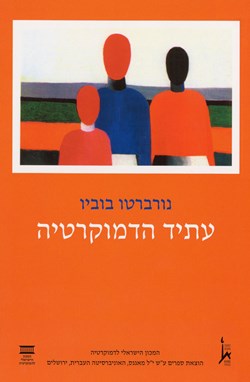 The Future of Democracy
Written By:

Norberto Bobbio

Publication Date:
Cover Type: Softcover
Number Of Pages:

184

Pages
Price: 58 NIS
A collection of articles on the modern notion of democracy and its ever-changing nature, which aim to bring democracy from the realm of abstract theory to modern-day reality, and address the struggles encountered. 
read more
The natural state of a democratic system is constant change, according Norberto Bobbio, one of the most important Italian political and legal philosophers of the twentieth century. This volume, The Future of Democracy, collects several of Bobbio's articles on the changing nature of democracy and attempt to outline the modern form of this type of regime.
In the first section of the book, Bobbio addresses the gap between the ideals of democracy and real-world democracy, which he calls a "harsh reality." The problems that he enumerates bother anyone who is concerned about the fate of a democracy that is fighting for its survival, but are also found in established democracies, such as the persistence of elites, the strengthening of special interests, citizen apathy, hidden powers (organized crime, security services, and a lack of transparency regarding government action), and a growing bureaucratic apparatus.
In the second section of the book, Bobbio engages in an expansive discussion of the nature of the political and social marketplace: the historical development of the molding of political agreements, economic views, and social contracts. Here too he seeks to emphasize the importance of maintaining the accepted rules of the game and points out that the real gaps between seemingly contradictory ideas are often quite small.
In the last chapter of the book, entitled "Democracy and the International System," Bobbio discusses the problems that agitate the world today and threaten to topple intercontinental alliances. From his local vantage point, the author's attitude towards democracy's states of emergency and the principle of survival, which is described as a guiding principle for a state's behavior, is especially fascinating.